The Wicked Truth: Madigan Wicked (Paperback)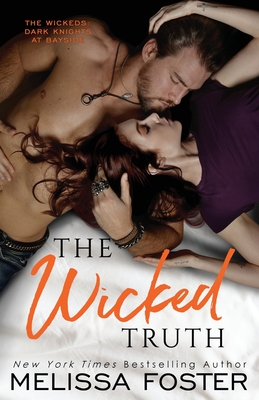 $22.09

Available in our Warehouse: Usually Ships in 3-8 Days
Description
---
Scorching heat, laugh-out-loud humor, and swoon-worthy moments abound in this sexy new standalone romance by New York Times and Wall Street Journal bestselling author Melissa Foster.
What happens when you're not looking for love, but it walks in the door?
Madigan Wicked's heart is not up for grabs. She's been there, done that, and she's not going back for seconds. She pours her heart and soul into her family, her greeting card line, puppetry, and storytelling performances. But she's not opposed to having a night of fun, and the gruff, sinfully hot, definitely-not-looking-for-love mysterious stranger she runs into at a bar might be just the right man to enjoy it with.
Ex-con Tobias Riggs has lost enough for one lifetime. The only family member in his corner doesn't remember him, and the people who he thought would always be in his life, walked away. He's just trying to make it through each day, and the last thing he's looking for is any sort of connection. When chemistry ignites with the snarky, sexy storyteller, with lips he can't stop thinking about, he gives in to a night of passion.
Though neither is open to love, it's been known to bully its way into even the most resisting hearts. But can it survive the wicked truth of Tobias's dark past?
About The Wickeds: Dark Knights at Bayside
Set on the sandy shores of Cape Cod, the Wickeds feature fiercely protective heroes, strong heroines, and unbreakable family bonds. If you think bikers are all the same, you haven't met the Dark Knights. The Dark Knights are a motorcycle club, not a gang. Their members stick together like family and will stop at nothing to keep their communities safe. These men are wickedly alpha and intensely loyal, but they are not alphaholes.
***
Want more WICKED sexy love stories?
A Little Bit Wicked (Justin and Chloe)
The Wicked Aftermath (Tank and Leah)
Crazy, Wicked Love
The Wicked Truth
His Wicked Ways
Meet the WHISKEYS: DARK KNIGHTS AT PEACEFUL HARBOR
Now available for your binge-reading pleasure
Tru Blue
Truly, Madly, Whiskey
Driving Whiskey Wild
Wicked Whiskey Love
Mad About Moon
Taming My Whiskey
The Gritty Truth
In for a Penny

Running on Diesel
Find out more about these and many other steamy romance series in Melissa Foster's big-family contemporary romance collection, Love in Bloom, featuring characters from all walks of life, from billionaires to blue-collar workers. You'll love her fun, sexy, and relatable characters, and their real-life issues. Best of all, you're always guaranteed a happily ever after.