No Presents Please: Mumbai Stories (Paperback)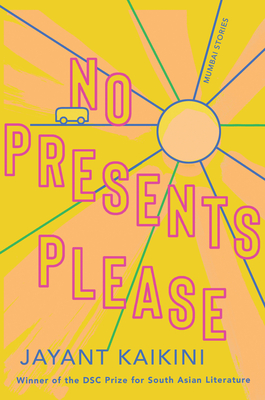 $16.95
This item is not currently available to order.
Staff Reviews
---
This wonderful collection of Jayant Kaikini's short stories introduces us to the lives of ordinary people living in Mumbai. Masterfully translated by Tejaswini Niranjana, these stories will transport you to another place; though the people you meet will feel like friends.
— Suzanna
Description
---
For readers of Jhumpa Lahiri and Rohinton Mistry, as well as Lorrie Moore and George Saunders, here are stories on the pathos and comedy of small–town migrants struggling to build a life in the big city, with the dream world of Bollywood never far away.

Jayant Kaikini's gaze takes in the people in the corners of Mumbai—a bus driver who, denied vacation time, steals the bus to travel home; a slum dweller who catches cats and sells them for pharmaceutical testing; a father at his wit's end who takes his mischievous son to a reform institution.

In this metropolis, those who seek find epiphanies in dark movie theaters, the jostle of local trains, and even in roadside keychains and lost thermos flasks. Here, in the shade of an unfinished overpass, a factory–worker and her boyfriend browse wedding invitations bearing wealthy couples' affectations—"no presents please"—and look once more at what they own.

Translated from the Kannada by Tejaswini Niranjana, these resonant stories, recently awarded the DSC Prize for South Asian Literature, take us to photo framers, flower markets, and Irani cafes, revealing a city trading in fantasies while its strivers, eating once a day and sleeping ten to a room, hold secret ambitions close.
About the Author
---
Jayant Kaikini is a Kannada poet, short–story writer, columnist and playwright, as well as an award–winning lyricist, script and dialogue writer for Kannada films. He won his first Karnataka Sahitya Akademi award at the age of nineteen in 1974, and has since won the award three times, in addition to winning various other awards in India, including the first Kusumagraj Rashtriya Bhasha Sahitya Puraskar. No Presents Please, his volume of selected stories, is the first book in translation to have won the DSC Prize for South Asian Literature.
Praise For…
---
Praise for Jayant KaikiniWinner of the Atta Galatta–Bangalore Literature Lifetime Achievement Award for writing in Kannada

Praise for No Presents PleaseWinner of the DSC Prize for South Asian Literature
Joint winner of the Atta Galatta–Bangalore Literature Festival Book Prize

"Tales of everyday life that open like windows onto universal truths . . . Highly recommend." —Bethanne Patrick, Literary Hub

"Kaikini makes a strong case for his brand of offbeat surrealism, proving that stories need not be attractive, reassuring or conventional to land with impact." —Cade Johnson, ZYZZYVA

"Refreshing . . . Kaikini's stories capture Mumbai as the scattered–omnipresent influence it holds on individuals living here." —Soni Wadhwa, Asian Review of Books

"A transportive experience . . . A resonant glimpse of contemporary Mumbai through a series of powerful short stories." —Vol. 1 Brooklyn

"Set against the backdrop of Mumbai's bustling cityscape, No Presents Please reveals the isolation, beauty and yearning inherent in modern Indian life . . . With an empathetic eye and evocative language trained on the ubiquitous qualities of the human experience, Kaikini guides readers to a sense of community and connection with his characters . . . It's well worth a read."—Debbie Morrison, BookBrowse

"All of these stories, culled from Kaikini's work between 1986 and 2006, are set in Mumbai, but the breadth of their subject matter speaks both to the diversity of the metropolis and his reach as a writer . . . His style and themes will have a familiar ring for Western audiences; there are echoes of Jhumpa Lahiri and George Saunders. But his vision of a bustling city, his sense of its drama and magical moments, is his own. A welcome introduction of a commanding writer to a wider audience." —Kirkus Reviews (starred review)

"In No Presents Please, Jayant Kaikini cracks open with tender care an extraordinary city, bursting with the ambitions of people who are anything but ordinary. In Kaikini's deft hands, Mumbai comes to life, exquisitely rendered, as much of a character as anyone else." —Neel Patel, author of If You See Me, Don't Say Hi

"As Invisible Cities was Calvino's ode to Venice, Jayant Kaikini's No Presents Please is a love letter to Mumbai—its citizens, their struggles and triumphs. The language and cast of characters combine to offer readers a bouquet of rough diamonds and freshwater pearls." —Devi S. Laskar, author of The Atlas of Reds and Blues

"Like a glimpse into a crowd in which each face suddenly becomes clear, No Presents Please brilliantly illuminates ordinary lives in the modern world." —Maxim Loskutoff, author of Come West and See

"Jayant Kaikini's stories are like portals opening from the routines of our lives into the unusual and mysterious, where everything contains unseen possibilities. For the outsiders in these stories, even the act of dreaming feels rebellious. A wonderful, and wonderfully translated, collection of stories." —Akil Kumarasamy, author of Half Gods

"In this splendid short story collection, Kaikini has captured the ethos of all that is Mumbai!" —Nitish S. Rele, Khaas Baat

"This Mumbai is not a distantly observed city. Kaikini is right there, in the midst of it, rubbing shoulders with his people, intuiting their lives and emotions through skin–touch."—Shanta Gokhale, Mumbai Mirror

"Dense with details and gentle observations, these stories explore the lives of people we see without seeing, every single day. . . . Kaikini examines these small but brave lives with deep sympathy. He captures their voices with unerring humour; conjures up their world with exquisite precision; and recreates the strange blend of anonymity and intimacy that is so characteristic of this teeming megapolis by the sea."—Shabnam Minwalla, The Hindu

"The collection affirms Kaikini as one of the most influential writers today."—Nikhil Govind, The Times of India