Caterpillars Can't Talk: A Children's Story About Love, Loss and Transformation (Paperback)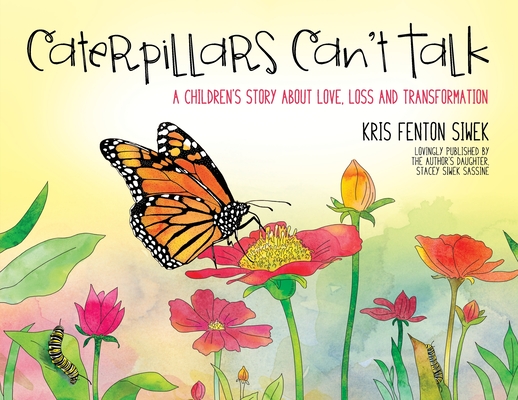 $20.18

Available in our Warehouse: Usually Ships in 3-8 Days
Description
---
Why do the people we love sometimes die?
Why did they have to leave us, and can they come back?
Young Andy wants to know. He's sad and confused because his dad has died. So on a quiet day in the springtime, Andy goes for a walk in the woods behind his house to think about what has happened.
In the woods, Andy meets Clyde -- a talking caterpillar with stripes of black and yellow and white. Clyde the caterpillar helps Andy talk about his dad ... about how much he misses him and about how much he loved him. Talking to Clyde helps Andy feel safer and stronger, and a little less sad.
In this tender and heartwarming book by mother and artist Kris Fenton Siwek, Andy learns new ways to think about loss and he discovers that when we are our saddest, new friends and old memories can make us feel better. He also learns that caterpillars become butterflies and that people, too, have souls that can live in our hearts forever.
Caterpillars Can't Talk provides parents, grandparents, teachers and counselors with a new and gentle way to talk about what we feel when someone we love passes away. It is a simple, sweet, heartfelt story that opens conversations and helps entire families heal.
This acclaimed book, first written in 1982 and finally brought to publication in 2020, is ideal for children ages 4 through 12, and has been embraced by teens and adults as well. Whether we're 6 or 60, we all grieve and we all hurt and we all wonder if we'll ever stop feeling sad when someone we love dies.
A book to read as a family, in the classroom and during counseling.
Praise for Caterpillars Can't Talk
"If you or your children are grappling with the death of someone you love, this book is a sweet and comforting salve for your pain."
-- Jennifer Johnson, LCPC, Grief Counselor
"A beautiful, poignant story that speaks the truth about love and loss. Whether you are 6 or 60, you will find true comfort in these pages."
-- Erika L. Jones, Career Development Speaker, Facilitator and Coach
"On each page of this book, numerous opportunities unfold for us to visit and share our own journeys through grief. This book is pure gold for children and families in the wake of loss."
-- LeAnn Lawler, Retired Elementary School Teacher
"Families suffering tremendous heartache and loss are searching for loving support, as well as healing resources. Caterpillars Can't Talk provides both."
-- Penny Tate, Mental Health Specialist/Advocate, Educator and Parent
"Caterpillars Can't Talk is a beautiful resource for all ages to help process grief and answer the many questions that come with death and loss."
-- Diane Siri, LCPC, Founder of Iris Counseling Center and Co-Founder of The Relationship Center
"A book for children that will provide comfort and hope while teaching the simple, profound truth that, in death, 'Life is changed, not ended.' A must-have book for families struggling with grief."
-- Stephanie Mondello, Retired High School World Religions Teacher
"Caterpillars Can't Talk is a powerful reminder that the people we've lost will live in our hearts and memories forever."
-- Amy Donlea, Teacher and Mother of Two
"What Kris has captured in her story is compassion toward a child's broken heart, a simple wisdom in processing loss, hope for what lies ahead and the beautiful joy of being transformed by God. Caterpillars Can't Talk is a wonderful resource for children and adults alike in dealing with the loss of a loved one."
-- Mike Siri, Pastor and Co-Founder of The Relationship Center