Best of Isla Mujeres: A Traveler's Guide to the Island's Best (Paperback)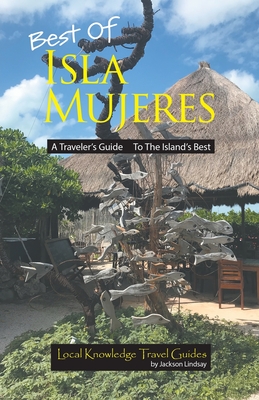 $24.95
This item is not currently available to order.
Description
---
Travel books rarely provide the tourist such a clear, succinct and simple path to a destination as do Jackson (Kip) Lindsay's Local Knowledge Travel Guides. "Creating travelers out of tourists", as Kip says, may just exemplify the essence of what these remarkable guides offer the reader. His 45 years traveling southern Mexico's Yucatan coast, Cozumel and Isla Mujeres, offer a perspective and experience here few have. The books provide the reader with an in-depth opportunity to know places that will fit their style for food and drink, romantic beaches, quiet shopping spots, local music and art, or top notch silver your first day, without fumbling around with questionable suggestions. The unique format categorizing dining options, dive and snorkel opportunities, beaches, daytime activities, nightlife, local doctors and pharmacies or shopping venues, enables the visitor to easily select options to their taste immediately upon arrival. For example, Local Knowledge will not just leave you with a list of restaurants, rather it is categorized with "great tacos," ice cream and desert shops," "choice steaks," "romantic settings for dinner," "beautiful beachside dining," "local seafood," "family dining," "for the vegetarian," etc.
Several media reviews have featured Local Knowledge Travel Guides in the past, including The Denver Post, The Sacramento Bee and Milwaukee Magazine. In addition, Jackson's writing has been featured on Funjet's Vax Vacation Access, with his stories on Riviera Maya travel destinations, Cancun, Isla Mujeres and Cozumel.
Jackson's wife Sue has been visiting southern Mexico for a bit longer than he has. Her travels began in the Yucatan, Belize and Guatemala a couple of years before his, following the "Gringo Trail" like so many young backpackers did in those days. This part of Mexico then was nothing like today. Cancun and Playa Del Carmen had no hotels, there was one road, it was a far different world. Both live in Milwaukee where summers are spent with as much pontoon boat time on the river as is possible.