Our Endless and Proper Work: Starting (and Sticking To) Your Writing Practice (Paperback)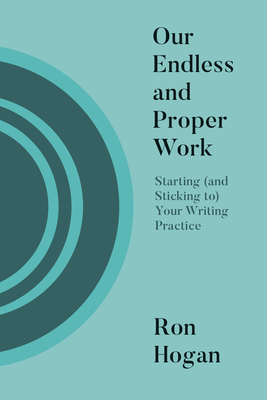 $16.95

Available in our Warehouse: Usually Ships in 3-8 Days
Description
---
Writer and editorial consultant Ron Hogan helps readers develop an ongoing writing practice not as a means to publication, but as an end in and of itself.
Many people pick up the guitar without eyeing a career as a professional musician or start painting without caring if their work appears in a gallery. But with writing, the assumption seems to be that publication is the main goal. Why?
In Our Endless and Proper Work, the second in Belt's series of books about writing and publishing―along with Anne Trubek's So You Want to Publish a Book?―Ron Hogan argues writing should be an end in itself for more people. The founder of the literary site Beatrice, and creator of the popular newsletter "Destroy Your Safe and Happy Lives," Hogan offers concrete steps to help writers develop an ongoing creative practice. Chapters include:
- Reclaiming Your Time for Writing
- Finding Your Groove
- Preparing Yourself for the Long Haul
- Your Voice is Valuable.
Sprinkled throughout are adorable illustrations by "Positive Doodles" creator Emm Roy.
A concise, inspirational book for anyone looking to take up writing--not for money and fame, but because it can help you lead a happier, more whole and engaged life.
About the Author
---
Ron Hogan has been an industry analyst for a media website, a digital marketing director for a publishing house, a freelance book reviewer, and an acquiring editor for a startup book publisher. He is the founder of the literary site Beatrice, and creator of a popular newsletter about developing your writing practice, Destroy Your Safe and Happy Lives.