La Biblia ilustrada. Mis historias favoritas / The Children's Illustrated Bible (Hardcover)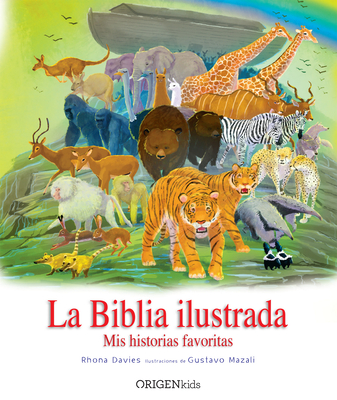 $14.99
This item is not currently available to order.
Description
---
Mientras se divierten con una gran variedad de historias bíblicas en esta nueva Biblia ilustrada, los niños aprenderán más acerca de la fe cristiana y el amor que Dios les tiene.

Esta Biblia para niños en español contiene más de cincuenta historias relatadas y vivamente ilustradas de un modo que apela a los niños a comenzar a leer con confianza. Es perfecta para chicos que ya pueden leer y relacionarse con la Palabra por sí mismos y que están preparados para sumergirse un poco más profundo en los detalles de la historia bíblica.

De Génesis a Apocalipsis encontramos historias maravillosamente ilustradas que nos recuerdan sobre la creación de Dios en Génesis, el cuidado de Dios hacia el pueblo hebreo en Éxodo, la fuerza que le otorgó a David peleando contra el gigante Goliat y el resguardo que le dio Jonás por medio de una ballena. En el Nuevo Testamento encontramos el nacimiento de Jesús, sus milagros, así como también su muerte y resurrección y su promesa final de regresar.  

La Biblia Ilustrada es ideal para niños de 5 a 8 años, incluye una página de presentación que la convierte en un regalo perfecto para una ocasión especial, como puede ser una Primera Comunión.

Disfrute redescubriendo el amor de Dios y sus promesas para sus hijos en este libro de historias bíblicas bellamente ilustrado.

ENGLISH DESCRIPTION

As children engage with a wide range of Bible stories in this new illustrated Bible, they will learn more about the Christian faith and about God's love for them.
 
A beautifully illustrated Bible that is perfect for children who are ready to move on from their first Bible. This new Bible contains over fifty stories that are retold and vibrantly illustrated in a way that will appeal to children as they begin to read with confidence. It is perfect for children who can now read and engage with the Bible for themselves and are ready to dig a little deeper into the details of the Biblical stories.
 
From Genesis to Revelation we find wonderfully illustrated stories that remind us of God's creation in Genesis, God's taking care of the Hebrew children in Exodus, God giving David strength against the giant Goliath, and God's provision for Jonah through a whale. And in the New Testament we discover Jesus birth, the miracles, as well as his death and resurrection and His final promise to come again.
 
The Illustrated Bible is perfect for parents looking to move beyond a first bible. A presentation page is also included that helps makes this a perfect gift for a special occasion or a First Communion.
 
Enjoy rediscovering God's love and promises for his children in this beautifully illustrated Bible storybook.