The SECRET SAUCE: Essential Ingredients for Exceptional Teaching (Paperback)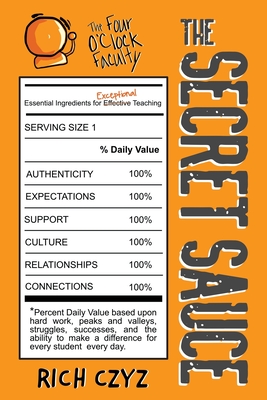 $24.95

Available in our Warehouse: Usually Ships in 3-8 Days
Description
---
Let me let you in on a little secret . . .
When I was a new teacher, I wished someone would have told me how to be a good teacher--or better yet, a great teacher. Instead, I thought I had to find my own way, make mistakes (and boy, did I ), and figure out teaching all on my own. But I'm here to tell you something: Teaching doesn't have to be so difficult. Through trial and error, I've discovered the SECRET SAUCE that makes teaching more fun and makes teachers exceptional.
If you are a new teacher, The SECRET SAUCE can help start you down the right path, making you a well-prepared educator from day one.

If you are a teacher who is stuck in a rut, The SECRET SAUCE can help you get out of that rut. It can show you new, successful ways to do things. There is light at the end of the tunnel
If you are an experienced teacher who needs to be reminded of why you chose this profession in the first place, The SECRET SAUCE can rejuvenate your spirit. It can energize you and bring back the excitement you felt in those early years.
What are you waiting for?
Dig in and discover the SECRET SAUCE to becoming an exceptional teacher
"Let The SECRET SAUCE spill from its pages and fill your learning spaces with some amazing ideas."
--Dr. Robert Dillon, learner, leader, educator, coauthor of The Space
"Rich captures the practices, elements, and essence of what makes an effective educator. Instead of giving the 'Don't smile until Christmas' advice that Rich and I both received, give The SECRET SAUCE "
--Evan A. Robb, principal, Johnson-Williams Middle School
"This book is for any teacher, at any time in their career, who wants to create their own SECRET SAUCE and stir in just the right ingredients so learning will be delicious and never taste the same again."
--Barbara Bray, author, speaker, creative learning strategist, host of Rethinking Learning podcast