Cross-Stitch (Hardcover)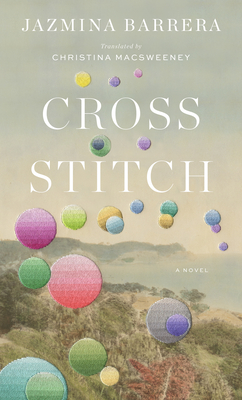 Staff Reviews
---
A tender but unflinching portrayal of the friendship of three young women, whose bond begins in adolescence and extends into adulthood. The novel explores the ways in which even the closest of friends remain mysterious to us. It feels in a way a moving response to the outpouring of #metoo stories. The stitches the young women make together are held by the survivors as a real testament to their mutual love and affection. It is a book about both the burden of being a young woman in a hostile world as well as the joy of creative collaboration of re-making a better world.
— Anna P
Description
---
A debut novel of female friendship and coming-of-age from Jazmina Barrera, acclaimed author of Linea Nigra and On Lighthouses, translated by Christina MacSweeney.

It was meant to be the trip of a lifetime. Mila, Citlali, and Dalia, childhood friends now college aged, leave Mexico City for the London of The Clash and the Paris of Courbet. They anticipate the caf's and crushes, but not the early signs that they are each steadily, inevitably changing. That feels like forever ago. Mila, now a writer and a new mother, has just published a book on needlecraft--an art form so long dismissed as "women's work." But after learning Citlali has drowned, Mila begins to sift through her old scrapbooks, reflecting on their shared youth for the first time as a new wife and mother. What has come of all the nights the three friends spent embroidering together in silence? Did she miss the signs that Citlali needed help?