The New Kindred Spirits: Over 2,000 All-New Reviews of Whiskeys, Brandies, Liqueurs, Gins, Vodkas, Tequilas, Mezcal & Rums from F. Paul Pacult's Spirit Journal (Paperback)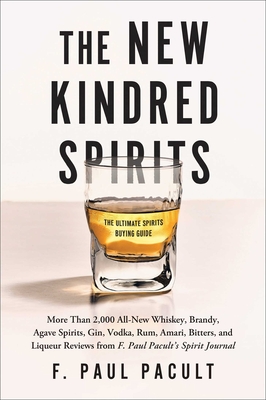 Description
---
2022 SPIRITED AWARDS TOP 10 FINALIST — BEST NEW BOOK ON DRINKS, CULTURE, HISTORY, OR SPIRITS

The All-New Bible of Spirits

In 2008, F. Paul Pacult published the second edition of his groundbreaking book of reviews, Kindred Spirits. In the dozen years since, interest in distilled spirits has exploded, and craft distilleries have popped up around the country and the world. 

Now, in The New Kindred Spirits, Pacult provides a new and comprehensive compilation of more than 2,400 detailed evaluations of whiskeys, brandies, vodkas, tequilas, rums, gins, and liqueurs—an indispensable reference for any spirits enthusiast or professional.

The New Kindred Spirits is essential for:

   • Consumers who are just beginning their personal adventure in spirits and want the dependable tutelage of the expert whom Imbibe Magazine recently called "…an all-knowing spirituous oracle, a J.D. Power of liquor."
   • Seasoned spirits consumers looking to expand their repertoire and in need of a reliable, highly detailed purchasing guide. 
   • Industry insiders who would like to increase their knowledge about all spirits categories—and see what the competition is up to.
   • Retailers looking for both a trusted guide to help their clientele make buying decisions, and an educational textbook for their sales staff.
   • Restauranteurs/bar owners/bartenders who sell spirits and need to know more about them in a time of increasingly knowledgeable customers.
   • Journalists, educators and other writers who regularly or occasionally cover or teach distilled spirits and mixology.

New in this edition, The New Kindred Spirits will also cover the craft distiller explosion—wherein thousands of small, independent distillers burst onto the scene—through hundreds of reviews of craft spirits. 

The world's most respected and trusted spirits authority, F. Paul Pacult is a critic, journalist, and the creator of F. Paul Pacult's Spirit Journal, which provided meticulous and unbiased spirits reviews for twenty-eight years. But whether reviewing old standby spirits or up-and-comers, readers can count on Paul's steely, unemotional critic's eye, just as they have since 1991. More comprehensive than ever before, The New Kindreds Spirits remains true to the guiding principles of careful judgment, no advertising allowed, occasional wisecracks, and totally unbiased opinions.
About the Author
---
Called "America's foremost spirits authority" by Forbes.com, F. Paul Pacult has been the publisher/editor of F. Paul Pacult's Spirit Journal since 1991. Today, F. Paul Pacult's Spirit Journal is recognized as the world's premier and most trusted independent source of spirits reviews and evaluations. Through Spirit Journal, Inc., Paul consults to many large and small suppliers of the beverage alcohol industry, assisting with product improvement, development, marketing, category counsel, and messaging.

Paul is a founding member of the award-winning spirits and mixology training company Beverage Alcohol Resource LLC (BAR) and is likewise a founding member and judging chairman of the innovative beverage competition company Ultimate Beverage Challenge LLC. He is the director of the The Rum Authority,The Whiskey Authority and, new in 2018, The Brandy Authority initiatives sponsored by Spirit Journal, Inc.
Praise For…
---
"As a bartender, the two previous Kindred Spirits have been my go-to guides to the right spirits to define the flavor profile I want to achieve in my cocktails. And now The New Kindred Spirits expands that knowledge base to previously little-known spirit categories and to the emerging category of artisanal distilleries."

—Dale DeGroff, aka "King Cocktail" and author of The New Craft of the Cocktail 

"The New Kindred Spirits continues to answer the need for credible and thoughtful guidance on how to unlock the world of spirits for our greater enjoyment. F. Paul Pacult's independent views and meticulous tasting regimen deliver critiques to trust for the most advanced connoisseur to the keenest of casual spirits hobbyists. By drawing back the curtain on where tasting notes come from, Pacult makes the reading of each spirit review all the more meaningful, inviting us each to develop our own vocabulary around the spirits we enjoy and would recommend to friends."

—Charlotte Voisey, global head of brand ambassador advocacy at William Grant & Sons Inc.

"F. Paul Pacult is the leading spirits authority in the world . . . Whether you want to learn more about a specific spirit, or want to better understand the categories of spirits, history and production, or perhaps you are seeking accurate, professional recommendations of the world's greatest spirits, this book provides everything that professionals and consumers alike need to understand the spirit world."

—Steve Olson, global mezcal advocate for Del Maguey Single Village Mezcal

"When it comes to tasting and analyzing spirits, there is only one person I look to, and his name is F. Paul Pacult. In The New Kindred Spirits, Paul not only gives his expert review on thousands of spirits, but he teaches us how to properly taste and judge the spirits we buy. Paul is meticulous with his process and has been for decades. The New Kindred Spirits is a must-buy for professionals and novices alike."

—Julie Reiner, author of The Craft Cocktail Party, cofounder of Social Hour Cocktails, and co-owner of Clover Club and Leyenda in Brooklyn, NY