Instagram Marketing 2020: The Playbook for Increasing Your Following and Generating Profits (Paperback)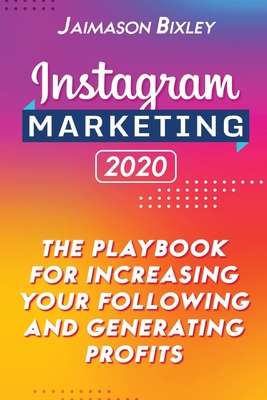 $22.97

Available in our Warehouse: Usually Ships in 3-8 Days
Description
---
The Underground Instagram Marketing Playbook for Growing Social Media Fast, Driving Massive Traffic & Generating Predictable Profits
Today only, get this Amazon book for just $19.99 for a limited time. Regularly priced at $45.99. 50% Off the Regular Price.
Social media is all the rage in our modern, tech-savvy society. Today more than ever, social media marketing is a crucial step in the growth of your business or personal brand, and guess where all the top influencers and businesses hang out the most? That's right, you guessed it Instagram
Read this Carefully......

Give Me Five Days ----- And I'll Give You
The Secret of Mastering ..... Empathy
A multi-feature platform that prides itself on connecting its users with each other, Instagram, when used strategically and intentionally, is a surefire recipe to boost profitability along with an increase in followers.
Instagram Marketing 2020: The Playbook for Increasing Your Following And Generating Profits
is your comprehensive guide to all things Instagram, content creation, and marketing strategy.
It teaches you how to identify your niche, generate a unique and creative Instagram handle, and provides you with a wealth of resources on hashtag creation and generation. It discusses the
4 pillars of online branding
● Brand messaging and positioning.
● Brand value.
● Consistency.
● Brand personality. It discusses the importance of creating quality content consistently - what to post, when to post it, how to identify content creation strategies within your niche. Here Is A Preview Of What You'll Discover...In this step-by-step book:
This book will not only thoroughly go over all the skills, people, and steps involved in mastering Instagram Marketing, it will also look closely at: It also teaches you how to use the various features offered in Instagram such as posts, Instagram Stories, direct messages, and shows you how to analyze and track your brand performance by taking you through an in-depth review of Instagram insights. Additionally, you will walk away with tangible, helpful tips to optimize your reach and grow your following while boosting your brand's engagement through strategic posting times and content planning. If you are new to Instagram as part of your personal brand or business growth strategy, stress no more, this book will teach you all that you need to know to start growing your brand and monetizing it sooner rather than never. Instagram is an evergreen, every growing platform that can change the trajectory of your business forever when used correctly So come and play with the 'gram and grow your brand while increasing your profitability Order your copy today
Take action right away by purchasing this book
"Instagram Marketing 2020: The Underground Instagram Marketing Playbook for Growing Social Media Fast, Driving Massive Traffic & Generating Predictable Profits"
, for a limited time discount of only
$2.99
Hurry Up
As with all my products on
AMAZON ...There's an unconditional, never any questions asked full 30-day money-back
in full guarantee Tags:
Instagram
● Instagram kit
● Instagram for authors
● Instagram for dummies
● Instagram marketing 2019
● Instagram followers
● Instagram business for beginners
● Instagram influencer marketing secrets