Mezcal and Tequila Cocktails: A Collection of Mezcal and Tequila Cocktails (Hardcover)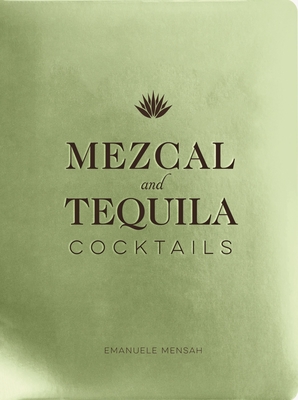 $22.95

Available in our Warehouse: Usually Ships in 3-8 Days
Description
---
With an elegant platinum-foil hardcover, Mezcal and Tequila Cocktails is an evocative collection of more than 60 mezcal and tequila cocktail recipes!

What do you know about Mezcal? Maybe you have some vague idea about its relationship to agave, or that there might be a worm at the bottom of the bottle. You may know that tequila is a type of mezcal, or that mezcal is more intensively handcrafted than almost any other spirit, making it a true farm-to-table drink. Or perhaps you've heard tell of its hallucinogenic property—which is apocryphal, just so you know. At the end of the day, you probably don't know that much about it, but if you've ever tried it then you know one thing for certain: its smoky, complex flavor is irresistible. And this fact alone is responsible for its recent stateside spike in popularity; but don't worry, the train hasn't left the station yet! Mezcal Cocktails will make you an expert on the beverage before there's a Mezcal bar on every city corner. If the 2010s belonged to artisan absinthe cocktails, the 2020s are sure to be the age of agave! With an irresistible silver foil hardcover and 40+ gorgeous photographs, Mezcal Cocktails features over 60 recipes for craft cocktails made with the previously hard-to-find spirit, such as:

- the Mezcal Negroni
- the Cactus Flower
- Mezcalita
- Oaxaca Old Fashioned
- Killer Bee
- Marrakesh Express

Plus, easy recipes for gorgeous craft cocktail ingredients, from syrups to garnishes! Though it isn't as ubiquitous as vodka or whiskey, mezcal is actually very easy to work with, as its flavor pairs beautifully with so many ingredients! Bartender Emanuele Mensah shares the rich and fascinating history of mezcal and tequila, all while making mezcal the go-to staple of your home bar.
About the Author
---
Emanuele Mensah is a mixologist, bar manager, photographer, and videographer based in Milan, Italy. He has worked for some of the best cocktail bars in the world, including Disrepute in London and Eau-de-Vie Sydney, and he was named one of the World Class Top 100 Bartenders by Diageo Reserve.

On Instagram and YouTube, you can find him at Cocktails with Lele (@CocktailsWithLele), where he shows how to make excellent classic cocktails in a home bar. He teaches complex techniques as well as the basics and shares classic cocktail recipes, craft concoctions, plus innovative creations of his own.

Lele is all about sustainability and applies a zero-waste policy to his ideas and concepts; everything has a purpose and must be used. He believes in interpreting cocktails with a fresh perspective, while taking inspiration from drinks and drink recipes from the past. This means returning to the original purpose of spirits when they were used medicinally, in the mezcal of Oaxaca and around the world.

He feels that drinking a cocktail should be a moment of pleasure and sharing.