Teach, Play, Learn!: How to Create a Purposeful Play-Driven Classroom (Paperback)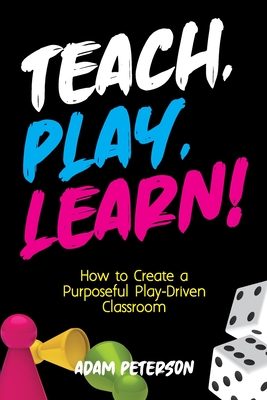 $24.95

Available in our Warehouse: Usually Ships in 3-8 Days
Description
---
Play-based teaching is the key to getting children excited for learning
In Teach, Play, Learn educator Adam Peterson shares his insights about the advantages of adopting play-based teaching in today's schools.
Complete with tons of activities that you can use right now, concrete examples, and a pedagogical toolkit, this book will help you transform classic toys and games--and even everyday objects--into opportunities for play-centered learning. With an eye toward the practical realities and needs of educators everywhere, Adam Peterson offers effective and affordable solutions that engage students in learning through play.
In a warm and engaging style, Adam explains how you can implement a fun, engaging, and play-based approach in the era of standards and high-stakes testing. From board games to card games and from dramatic play to dollar store deals, this book will help you create a classroom where learning--and teaching--are as fun as they are effective.
"This is exactly what you need to find the engagement your students need and thirst for. So many great ideas to bring the joy of play and FUN--all while your students thrive and learn A must-read for every early childhood educator " --Jessica Travis, Early childhood specialist and national speaker
"This book is full of strategies for integrating meaningful play into teaching and learning. Adam beautifully shares how to engage learners in ways that promote joy while simultaneously teaching the content standards--and his methods will work with students of any age and require minimal prep time " --Kim Bearden, Cofounder and executive director at the Ron Clark Academy
"When I first met Adam a number of years ago, I thought, Here is a 6'3" kid Adam was filled with excitement and enthusiasm for teaching. When you couple his energy with strategies that engage students in learning, you have a winning combination." --Deedee Wills, Mrs. Wills Kindergarten