Top 550 Air Fryer Recipes: The Complete Air Fryer Recipes Cookbook for Easy, Delicious and Healthy Meals (Air Fryer Cookbook) (Paperback)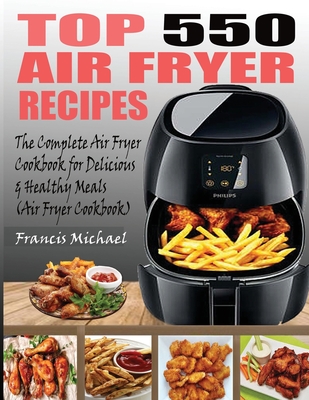 $20.24

Available in our Warehouse: Usually Ships in 3-8 Days
Description
---
Enjoy Top 550 Easy, Delicious and Healthy Air Fryer Recipes - The Easy Way
Do you want to Master your Air Fryer and impress your family, friends and loved ones? Do you want to make tasty, delicious and yet, healthy dishes with your Air Fryer?
Do you want to utilize the full potentials of your Air Fryer?
If yes to the above questions, then this cookbook is absolutely for you
The "Top 550 Air Fryer Recipes Cookbook" contains the information required to make the best dishes in the world. Each recipes are specially hand-picked and tried in our kitchen to provide you with maximum and possible near result.
The recipes are easy to make, delicious and can be served in less than 25 minutes. These recipes are suitable to all audiences, from the beginner to the experienced cook.
Inside this cookbook, you will find tasty top 550 Air Fryer Recipes under various chapters such as:
Breakfast RecipesPoultry RecipesMain Meal RecipesFish & Seafood RecipesEgg RecipesPork & Beef RecipesSide Dish RecipesVegan & Vegetarian RecipesBurger RecipesSnack & Appetizer RecipesDessert Recipes
The "Top 550 Air Fryer Cookbook" brings you recipes such as: Cinnamon Rolls, Buttermilk Fried Chicken, Roasted Parsnips, Potato Wedges, Cranberry Pecan Muffins, Spicy Chicken Burgers, Curry Chickpeas, Cheese Omelette, Savory Roasted Sweet Potatoes and much more.
To get this book, Scroll Up Now and Click on the "Buy now with 1-Click" Button to Download your Copy Right Away
Grab Your Copy Now