Papa's Last Words: They Lied About God (Hardcover)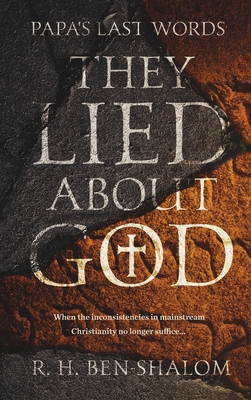 $31.99

Available in our Warehouse: Usually Ships in 3-8 Days
Description
---
Who is God...really? Where is God amid all the Christian denominations? Why does He seem to change so drastically between the Old and New Testament and now? Did God change, or did the people change?
An incendiary undertaking, Papa's Last Words: They Lied About God removes cultural biases to present a raw look at the differences between mainstream beliefs and what is written in the Bible. Those differences are the key to answering a vault's worth of questions. The book challenges mainstream concepts, begs for unbiased thinking, promotes Berean study habits, encourages fearless questioning, and appreciates peaceful and logical disagreement.
Surviving his parents and grandparents at thirty-four, Ben-Shalom knows firsthand that tomorrow is not guaranteed. He saw faith giants with the anointing who turned away from the Christ, and he knew that he needed to arm his children with knowledge not taught on Sunday mornings. If today was his last day, this book would be his last words to them, his most valued words about the dearest matter: God.
This book:
- Reveals God within the rift between Judaism and Christianity
- Tackles the inconsistencies in mainstream concepts
- Upholds first century Christianity
- Is for Christians who perceive a disharmony between modern doctrines and the Bible
The information in this book has already changed lives, honing relationships with God through a love for truth, and it is now finally available to the public.
Ben-Shalom assures you treasures unlocked in areas of Christianity that many others take for granted and delivers answers where clich's have failed.
Do not miss this opportunity to delve deeper into the mysteries of God