Stepping into Freedom: An Introduction to Buddhist Monastic Training (Paperback)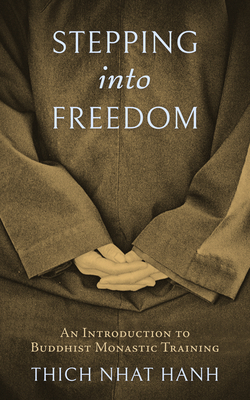 $15.95
This item is not currently available to order.
Description
---
Zen Master Thich Nhat Hanh's guide to daily life in the monastery with 99 practice poems, 10 novice precepts, and 41 "fine manners" offering the basic teachings of mindfulness for all aspiring practitioners in the Plum Village tradition.

For millennia, people have set out for the hills, forests, and mountains to find freedom, happiness, peace, joy, balance, fulfillment, and God or enlightenment while living simply in spiritual community. Now more than ever we look for a way to live a life of integrity and purpose. Fortunately, the monastic tradition is still very much alive, and who better to share it than the monks and nuns of Plum Village, the largest Buddhist monastic community outside Asia? Stepping into Freedom offers us a detailed look at every aspect of monastic life, showing us all ways to live simply, beautifully, and happily in the present moment. 

As a book of guidelines, encouraging words, reminders, and poems for novice monks and nuns in the Plum Village tradition, this revised second edition of Stepping into Freedom helps us lead a wholesome and happy life, whether in the monastery or in the larger world. Here are 98 practice poems, 10 novice precepts, and 41 "fine manners" providing basic teachings on sitting and walking meditation as well as mindfulness in daily life. With inspiration for every moment in the life of a practitioner from waking up in the morning to lighting a candle in the evening, this book is perfect for beginners to mindfulness who wish to enhance their practice at home as well as anyone considering living in spiritual community—especially those who wish to deepen their understanding of the monastic way of life.

Renowned author Thich Nhat Hanh has taught several generations of young monks and nuns in Vietnam and the West, as well as many thousands of lay practitioners, founding several monasteries worldwide, most notably Plum Village in France. In Vietnam he cofounded the An Quang Buddhist Institute and the Van Hanh Buddhist University. He has studied and taught at Columbia and Princeton universities and the Sorbonne in Paris.
About the Author
---
Thich Nhat Hanh was a world-renowned spiritual teacher and peace activist. Born in Vietnam in 1926, he became a Zen Buddhist monk at the age of sixteen. Over seven decades of teaching, he published more than 100 books, which have sold more than four million copies in the United States alone. Exiled from Vietnam in 1966 for promoting peace, his teachings on Buddhism as a path to social and political transformation are responsible for bringing the mindfulness movement to Western culture. He established the international Plum Village Community of Engaged Buddhism in France, now the largest Buddhist monastery in Europe and the heart of a growing community of mindfulness practice centers around the world. He passed away in 2022 at the age of 95 at his root temple, Tu Hieu, in Hue, Vietnam.