RV Living: A Beginner's Guide To Turning Your Motorhome Dream Into Reality (Paperback)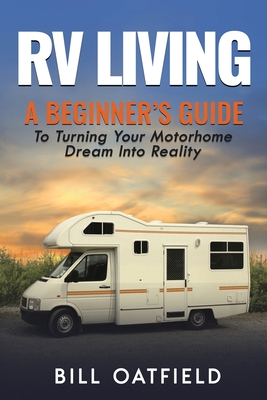 $14.99

Available in our Warehouse: Usually Ships in 3-8 Days
Description
---
Learn How You Can Be Free and Live a Life on the Road

Get Access To Insider Tips On How To Start The Full-time RV Life
Are you tired of the everyday grind?
Do you feel trapped, and dream of living a life on the road?
If you do, living in an RV is just what you need to turn things around Most people only get to escape their 9-to-5 job a couple of weeks per year. But with a motorhome RV you can:
- start a life on the road, and
- live on your own terms (24/7 )
Get Your Copy of 'RV Living'

With 'RV Living', you will embark on a journey that will let you experience real freedom and a deep sense of satisfaction.
A state you were born to inhabit.

Imagine the freedom that comes with boondocking. Want to explore a national park? Or how about taking the long and winding road? Living in a camper gives you complete control: every day will be a
new adventure
But where do you start?
Taking the plunge and starting the full-time RV lifestyle is a big step. One that you should not take lightly. This book on RV Living will help you during your transition and prepare you properly for the next phase in your life.
Why You Should Check Out 'RV Living'

It is jam-packed with essential and practical RV tips. What to look for when buying an RV, such as:
- RV class
- Getting a big or small RV
- Finding used RVs for sale
- Buying an expensive or cheap RV, and
- RV repair and maintenance tips
Once you're done reading this book, you will have a deep understanding of what it's like to live in an RV
Here's What You Will Learn:
- The basics of RV living full-time
- How to buy an RV
- How to prepare for RV living
- How to budget for life on the road
- How to make and save money on the road
- How to find the best RV parks and camping grounds
- How to get along with family and pets
- The best RV Resources
And much, much more
Finally, as a FREE & EXCLUSIVE BONUS, you're also getting 'What Are Shipping Container Homes?' from my other book 'Shipping Container Homes: Learn How To Build Your Own Shipping Container House and Live Your Dream '
To recap: '
RV Living
' can literally save you thousands of dollars on your next RV motorhome purchase
Let's get started, shall we?
Take action now Scroll to the top of this page and click the
'Buy Now'
button.