Indoor Gardening: Growing Herbs, Greens, & Vegetables Under Lights (Paperback)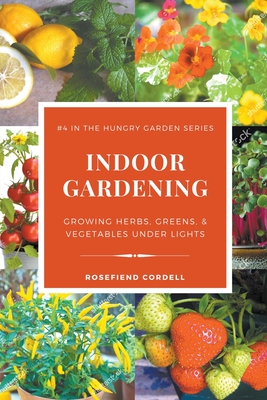 $20.39

Available in our Warehouse: Usually Ships in 3-8 Days
Description
---
Learn how to grow fresh, organic vegetables, fruits, and greens in your own home -- and using materials that you already have that are cheap.
Gardening is an enjoyable hobby and art, but not everybody has land available to them. You can still enjoy fresh, healthy produce that you've grown for just a few dollars if you have a kitchen window, or an empty bookshelf, and a few well-placed grow lights.
Now you can make a little salad, or use fresh herbs to liven up your meal. A few minutes a day, and you can have sprouts and microgreens for your salad, a bowl of radishes to snack on, and other delights.
Rosefiend Cordell, a former horticulturist turned gardening writer, will guide you gently but firmly through the wild world of indoor gardening.
In this book you will find:
An introduction to growing food plants indoors. Learn about what you need for an indoor vegetable garden, and why this setup will be different than what you have for houseplants. We'll take a quick look at containers and potting mix.This book gives you all the technical dirt on lighting and the incredible array of grow light choices available to you.
This book covers propagation, seeding tips, as well as common indoor crop pests and how to combat them organically.
Finally, you'll get a complete primer on to grow indoor plants -- sprouts, shoots, microgreens, herbs, leafy vegetables, and root vegetables. You'll learn about growing leftover kitchen scraps (waste not, want not). We'll even cover more difficult indoor plants, such as strawberries, peas, and tomatoes, and include information about hand-pollination -- which you'll need to learn how to do unless you have a trained honeybee hanging around the house.
All written to encourage you.
Perhaps, while reading this, you're thinking, "But I always kill my plants." Look, I'm a professional ... and believe me, I've killed more plants than you have But that was how I -- and many other gardeners like me -- learned how to take care of plants. Trial and error for the win Part of growing plants is losing plants, and that's okay. You learn from your mistakes, and you grow ... and eventually so do your plants Gardening ain't a cover of Home Beautiful. It's messier and sometimes it breaks your heart, "but joy cometh in the morning". And if you have some pretty little food plants in your kitchen under a grow lamp, it makes life even better.
Filled with a lots of do-it-yourself in-home gardening information, Indoor Gardening is your gateway to this exciting new world of practical (and tasty ) crops.