The Complete Plant-Based Cookbook for Beginners: 600 Healthy and Wholesome Recipes with 21 Days Meal Plan for Your Whole Family (Hardcover)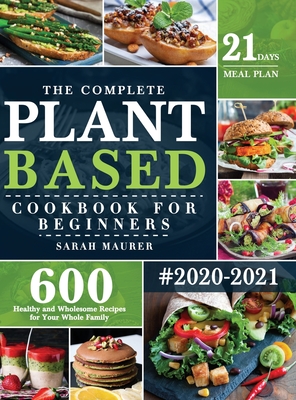 $31.19
Email or call for price.
Description
---
Have you ever considered switching to the plant-based diet but no clue what to eat?
Are you looking for healthy and flavorful recipes for your plant-based diet plan?
The Complete Plant-Based Cookbook for Beginners will help you harvest myriad health benefits from your plant-based journey without sacrificing any flavors. The plant based diet doesn't have to be boring and bland. It can be creative and vigorous. This book will save you time and effort by offering flexible and foolproof recipes for any occasion.
This cookbook covers a wide variety of recipe categories.You can tailor it to suit your every unique preference. It includes but not limited to:
Wholesome breakfast and lunch recipes
Satisfying soup and stew recipes
Fast snacks and appetizer recipes
Delicious vegetable recipes
The most-wanted dessert recipes
Delectable Wraps and Spreads
Healthy Smoothies and Beverages
....
Don't worry about finding recipes in this blockbuster collection.
The recipe index will help you find them at a glance
The recipes in this amazing treasure are carefully selected:
Use real whole foods and cut off unhealthy ingredients
Use ingredients that can be easily found at your local stores
Many creative alternatives for plant based dieters to obtain balanced nutrition
Detailed nutrition information for each recipe
Most meals can be made in 30 minutes or less from prepping to your dinner table.
What's more, you will get:
A plant based eating guide,
Reliable food list, alternative food list
Tips to enhance your cooking skills
21-day plant-based meal plan
Adopt plant based diet for heart health, fat burning and overall wellness―these delicious recipes and helpful meal plans will show you the way. Enjoy