Amazon FBA, Dropshipping Shopify, Social Media & Affiliate Marketing: Make a Passive Income Fortune by Taking Advantage of Foolproof Step-by-step Tech (Paperback)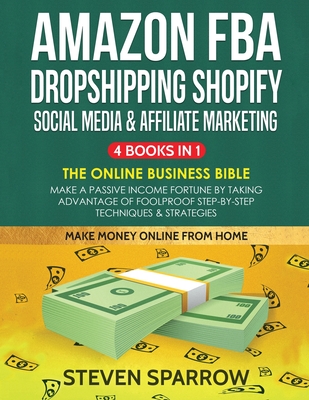 $24.95

Available in our Warehouse: Usually Ships in 3-8 Days
Description
---
Have you always dreamed of attaining financial freedom? Or maybe you'd like to try taking your life into your own hands and earn your money online? Are you looking for an online business that does not require a fortune and phenomenal skills to get started?
Well then you're in luck; this wonderful book, which has been put together by an author who now owns a 7-figure online business, an entrepreneur with a lot experience, is sharing his success with anyone who wants to develop and realize their personal model of success. Especially for people who cannot let their lives and careers be taken out of their hands. You don't have to adapt to the world of work. Better learn how the world of work adapts to you. After all, it's your life, your career, your game
This so called Online Business Bible includes four of the best online businesses that have proved to work for the most profitable online business you can pick out these days. These business models are introduced to you in an extremely practical way - this guide accompanies you from the idea, through the administrative procedures, to your first product and the optimization of your offer.
Here's a peak of what you'll find inside;
BOOK #1 covers Amazon FBA;
- The best step-by-step methods to set up your account and a striking strategy that triggers the Amazon Ads algorithm thus guaranteeing a lot more exposure.
- 10 products you can pick up right now to start selling
- BONUS chapter - How to easily set up an account with UK AMS Ads that will get your business overseas
BOOK #2 covering Dropshipping involves;
- 7 reason why Dropshipping is the best choice for your new online business
- 6 scenarios to avoid that could drawback your business and prevent you to
- get the success you deserve
BOOK #3 on Affiliate Marketing includes;
- How to select profitable niches
- Five key places to post your affiliate marketing links.
- The technique to setting up a website that ensures to attract customers and make money and the faults to avoid... and so much more
BOOK #4 is the final business approach which at times is passed over without giving due attention, Social Media Marketing, which covers;
- The best strategy to build up a loyal audience using Facebook, Instagram, YouTube, Twitter, Snapchat and Pinterest effectively.
- The formula necessary to legitimize your social ability building your personal brand and becoming an influencer in your niche.
So stop wasting your time browsing for other 'quick and easy' ways to get rich and gain success, as we all know how that's going to end up. Buy this book now, put the effort that is required and finally achieve the results you've been dreaming of