Goddesses of Water (Paperback)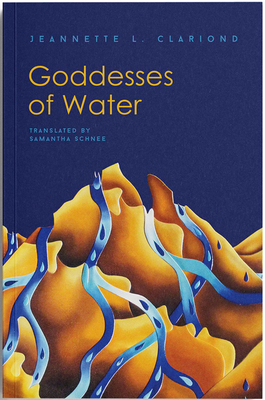 $20.00

Available in our Warehouse: Usually Ships in 3-8 Days
Description
---
Jeannette L. Clariond's GODDESSES OF WATER draws upon Mesoamerican cosmogony to lament the present-day epidemic of femicides in Mexico.
Translated by Samantha Schnee.
Mexican poet Jeannette L. Clariond's sixth book in English translation reconstructs the myth of the moon goddess Coyolxauhqui, employing the lyricism of Nahuatl philosophy and investigating gender construction and fluidity in Aztec mythology. Printed in a bilingual edition, the cycle of poems is accompanied by a glossary of the Nahuatl words and Aztec concepts critical to its comprehension. In Samantha Schnee's keen and urgent translation, this collection of poems presents a surprising window on an invisible war waged against thousands of Mexican women. Clariond astounds us with her ability to painstakingly analyze a phenomenon that has drawn attention around the globe.
GODDESSES OF WATER is at once profoundly dark and dazzling, both blinding and fearsome, with a radical beauty that is cruel and inexorable, perhaps because, in a world like ours, beauty can be nothing but cruel, cruel and necessarily sad, just like the gods and goddesses, just like Coyolxauhqui herself.--Ra l Zurita
Jeannette L. Clariond's poetry reminds us that imagination observes reality and that reality itself is sleeping, and only poetry is capable of awakening it.--Adonis
Jeannette L. Clariond and her lucid translator into English, Samantha Schnee, allow us a glimpse into how this land and its ways might encounter the terror, the abjection, and the disgust of the realities of femicide. This terror is so deep and disturbing that only a weaving of vital archaic threads quivering through reflection in presentness can get us to a place from which we can begin to address its brutal reality and the bitterly unjust end of so many. Mircea Eliade says that 'life cannot be repaired, it can only be recreated.' So, GODDESSES OF WATER is an origin mode for a cosmic indigeneity to the whole of the earth needed so urgently now. Through it another layer of reality is revealed for Abya Yala, as it once again is shown to be necessary and different from the meaningless violence and endless disaster of the binary conflict mind.-- Roberto Harrison
It has been a long time since I have read poetry so clear and diamantine.--Gonzalo Rojas
Clariond's work had impressed me deeply for her educated poetry, rich in literary, artistic, philosophical, and above all, spiritual references.--Alessio Brandolini
Poetry. Latinx Studies. Women's Studies. Translation.