Make It Count: Ensuring When Life Expires Your Legacy Lives on (Hardcover)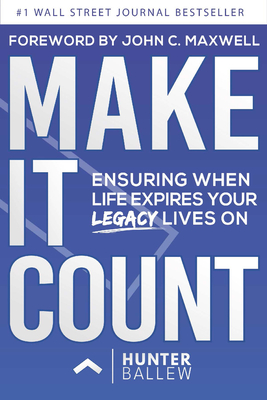 $27.95
This item is not currently available to order.
About the Author
---
Hunter Ballew has been a US Marine who turned into a full-time Firefighter and an EMT (Emergency Medical Technician) -- and then he turned himself into a serial entrepreneur, speaker, and consultant to thousands. Along the way, he has founded and sold many companies that have done tens of millions in revenue and were priced for multiple-8 figures.A few of the successful companies Hunter has founded, partnered with, or invested in are Roofing.com, FUELED, RepCard, Guestio, West Broad Apparel, Cornerstone Construction, and more.Hunter is on a self-appointed personal mission to help train and develop millions of men and women to be successful leaders and competent citizens -- who will then go on to train and develop billions of more successful leaders and self-sustaining, competent citizens. Through speaking events, his new book, Make It Count, and more, he empowers high-performing business owners, aspiring entrepreneurs, and many others to fully realize their leadership potential and secure their legacies. And by 'secure their legacies, ' Hunter means he and his companies will train them all on how to make lasting, monumental, memorable additions to society that help many thousands of people.