First Aid Handbook: This book includes: How to Heal from Wilderness Accidents + How to Heal from Urban Accidents + How to Heal from Domest (Paperback)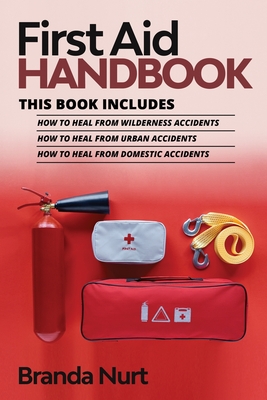 $39.90

Available in our Warehouse: Usually Ships in 3-8 Days
Description
---
Do you spend a lot of time outdoors? Do you enjoy common outdoor activities such as camping, hunting, fishing, hiking, or just getting some fresh air? Many people do, and many people have seen the survival stories of those faced with extreme injuries in the wild. However, the overarching response is that those emergencies don't happen to everyday people. That couldn't be further from the truth.
In this book, you'll learn about the most common wilderness injuries and how to treat or address them while you're in the wild.
The truth of the matter is that there's no such thing as overly prepared for wilderness injuries. However, preparedness will only get you so far. People experiencing wilderness injuries are often far from help, and usually, without the resources they need to know what to do next. With this book, you'll have a guide on how to handle the most common injuries, including what to do and what not to do in certain situations.
Accidents happen every day, and sudden injuries can occur in the blink of an eye. Many people die daily from sudden illnesses like sudden cardiac arrests or breathing emergencies. Without immediate care, treatable illnesses can result in a fatality, leading to the loss of lives. Wounds result in scars, and preventable illnesses deteriorate badly. All of these can occur due to the lack of immediate care.
Knowing what to do and when to do it during a crisis is very important because it may mean the difference between life and death. With the comprehensive knowledge of first aid skills that this book offers, you will be adequately prepared to handle most emergencies that may come your way, like a sudden cardiac arrest or breathing problems.
This book is filled with practical and useable knowledge in simple and easy to follow steps that will provide you with the needed information to assist you in a crisis rather than wringing your hands helplessly, not knowing what to do as you watch the victim's condition worsen.
This book will be of great benefit to parents, teachers, coworkers, and anyone who wants to be prepared. It is for those who want to help their neighbor and help preserve not just life but the quality of life for his or her neighbor, friends, and loved ones as well as themselves. This book is designed to explain, in detail, how to recognize a sudden illness in a victim even when they may not know it themselves.
By recognizing what is wrong, you can make it right. This book is filled with information on how and when to get help and what to do until help arrives.
The home is where we spend a lot of our time. It's supposed to be the safest place to be, especially because it shields us from certain external dangers. However, homes are not a hundred percent safe as accidents still happen at home. They can happen to you, your spouse, children, or people visiting but end up affecting everyone else in the home in one way or another.
In this book, we give you some types of domestic accidents that you could face at some point, how they happen, and some tips on how to prevent them.
We also walk you through the process of first aid, which is the initial response to a domestic accident victim, why this step is very important, and the different ways in which you can administer first aid.
In some cases, you might have to take the victim to a hospital for further treatment. We give you tips on how to safely transport the accident victim to the hospital. We even provide you with an emergency list of contact information that you should have on hand at all times.
By the time you're done reading this book, you will have a better understanding of how to prevent domestic accidents and what to do when something goes wrong. Don't get caught unprepared