Questions You'll Wish You Asked: A Time Capsule Journal for Treasured Mentors and Important Relationships (Paperback)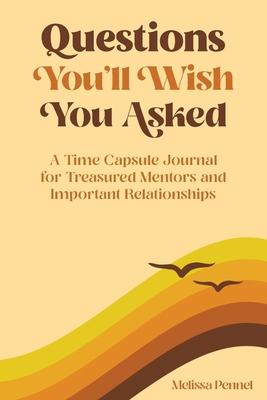 $20.18

Available in our Warehouse: Usually Ships in 3-8 Days
Description
---
There are some relationships that deeply influence our life.
Whether it's an aunt or uncle, former teacher, treasured neighbor, or another type of guide, the bond we share with these important people is special.
The "Questions You'll Wish You Asked" journal is a way to deepen this bond in the present while building an altar to be visited when conversation is no longer possible. With questions for a treasured mentor to answer such as:
"If you could give your eighteen-year-old self a piece of advice, what would it be?"
"What is something you think I'd be surprised to learn about you?"
"How do you define success?"
This mixture of lighthearted and meaningful questions creates a valuable written keepsake for the future.
Commonly asked questions:
Who is this journal for? Is it best for older people, or can I gift it to my sister who is an aunt in her twenties?
The journal provides over 100 questions for a treasured guide to answer for a loved one, and they assume that the person answering has lived more life/has more experience than the person they're writing to, whatever their current age.The questions are primarily about the person filling out the journal, with some questions particular to the specific relationship. It makes a perfect gift for an aunt or uncle, treasured elder, godparent, or keepsake for the many other forms a special guiding relationship takes. This journal also makes a thoughtful gift for members of non-traditional families, and the questions within are not structured around or catering to any specific gender; they were created to be inclusive of the varying forms of family and identity.
What if I have people whom I'd like to journal to...do I need multiple copies?
Most of the questions in this journal are about the mentor/guide/aunt or uncle themselves, but there are also questions particular to the person whom they're writing to, such as "what do you remember about our first meeting?" You might choose to have separate journals for separate relationships, but more often people choose to split those answers in the same journal (writing separate entries to multiple people within the extra pages provided at the end.)
This journal was created to bridge a gap in the Questions You'll Wish You Asked family series; it exists because some of the people who most deeply shape us don't have a clear label in our family tree (or life.) Memorializing these connections, whether young or old, is both urgent and important.