True Crime Case Histories - (Books 7, 8, & 9): 36 Disturbing True Crime Stories (3 Book True Crime Collection) (Paperback)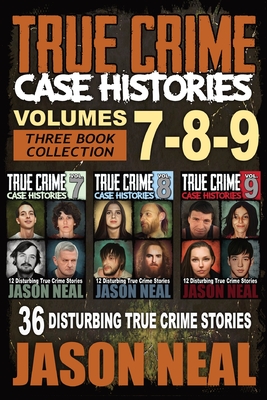 $26.99

Available in our Warehouse: Usually Ships in 3-8 Days
Description
---
36 Disturbing True Crime Stories of Murder, Deception, and MayhemReaders Love This Series - Over 4,300 Five-Star Ratings on Amazon & GoodreadsThree Book Collection: Volumes 7, 8, and 9 of the True Crime Case Histories Series (2022)
If you're a fan of true crime, you're undoubtedly familiar with the big-name cases; Ted Bundy, BTK, David Berkowitz, Christopher Watts, Diane Downs, Casey Anthony, Jeffrey Dahmer, Jodi Arias, Ed Gein, etc. The list of well-known, notorious cases throughout history is seemingly endless. Books, websites, podcasts, streaming television series, and magazines are filled with their abhorrent tales of mayhem. They're some of the most foul killers the world has ever known.
In my books, I do my best to find stories you may not have heard of. To do this I count on my readers to send me stories that may have gone forgotten and aren't found all over the internet.
This book is a Box Set of Volumes 7, 8, & 9 of the True Crime Case Histories series.
Inside you'll find 36 True Crime stories from the 100 years. Many of which you may never have heard of.
You'll read the story of five-year-old Stephanie Hebert, who walked only three houses down her quiet suburban sidewalk and disappeared forever. Her case went cold for forty years before other children from her neighborhood came forward in their adulthood with information leading to the killer.
There's the story of the sadistic mother who viewed her children only as the spawn of their demon father, torturing them for their entire short lives.
You'll also read of the deranged husband and wife team who started their own cult and made it their life's mission to rid the world of witches.
Another story tells the disheartening tale of a toddler's skeleton found in a suitcase on the side of the road. Motorcyclists discovered her mother's skeleton more than 600 miles away. Five years had passed, with no one even realizing they were missing.
One particular story in this volume was sent to me by several readers in the Michigan area. The news of a young woman's savage death in 2018 was front-page news in Michigan, but the rest of the world may not have heard the story yet.
There's the story of a young Russian immigrant who came to the United States seeking the exciting lifestyle he'd seen on television, only to be stabbed, set on fire, and left to die in the desert by his own friends.
There's the story of a young woman who was abducted while sunbathing along the Ohio River. A witness across the river saw the abduction in progress and identified the abductor, but after more than twenty-five years, the girl's mother still searches for answers.
You'll read about a law enforcement officer that took advantage of the trust associated with his uniform. His brutal reign of terror lasted eight years. It took the bravery of two young women that escaped his grasp to bring him down.
There's also the heartbreaking story of a single mom, drowning in debt, that did the unthinkable for insurance money.
Many of the stories in this book feature women killers, three of which took the time to meticulously dismember their victims-a task that can take great strength. Another woman manipulated her two teenage boys into killing for her.
You'll also read of a sadistic group of up to twelve killers that took joy in abducting and torturing young men in Australia. Sadly, only one of the mysterious group has been brought to justice.
Plus many more disturbing stories.