The Bird King (MP3 CD)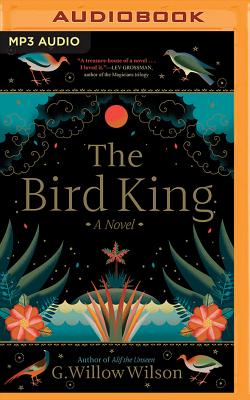 $27.49
Available in our Warehouse: Usually Ships in 3-8 Days
Staff Reviews
---
1491 Spain: A Muslim courtesan and her best friend, the palace's magical cartographer, must flee when the Christian Inquisition threatens their freedom. Escaping with the help of a wayward jinn, the two embark on an epic adventure to an unknown land that might not even exist. This rich novel is laden with wisdom about friendship, love, and faith, besides being a thrilling story of adventure to last the ages - a truly magical tale.
— Luisa
March 2019 Indie Next List
---
"Fatima is a concubine of the sultan of the last emirate in the Iberian Peninsula to submit to the Spanish Inquisition. When her dearest friend, Hassan, a mapmaker who can map places he has never seen (and that do not always exist), is singled out by the Inquisition, she flees with him and a jinn, following the trail of the elusive and mythical Bird King, who may or may not be able to grant them sanctuary. Wilson's latest novel is rich with the historical detail, lush description, and fantastical elements that we have come to know and love from her. A story of resistance, freedom, seeking, and strength, and a true fable for our times."
— Anna Eklund, University Book Store, Seattle, WA
Description
---
From award-winning author G. Willow Wilson, The Bird King is an epic journey set during the reign of the last sultan in the Iberian peninsula at the height of the Spanish Inquisition.
G. Willow Wilson's debut novel Alif the Unseen was an NPR and Washington Post Best Book of the Year, and it established her as a vital American Muslim literary voice. Now she delivers The Bird King, a stunning new novel that tells the story of Fatima, a concubine in the royal court of Granada, the last emirate of Muslim Spain, and her dearest friend Hassan, the palace mapmaker. Hassan has a secret―he can draw maps of places he's never seen and bend the shape of reality. When representatives of the newly formed Spanish monarchy arrive to negotiate the sultan's surrender, Fatima befriends one of the women, not realizing that she will see Hassan's gift as sorcery and a threat to Christian Spanish rule. With their freedoms at stake, what will Fatima risk to save Hassan and escape the palace walls? As Fatima and Hassan traverse Spain with the help of a clever jinn to find safety, The Bird King asks us to consider what love is and the price of freedom at a time when the West and the Muslim world were not yet separate.
We appreciate your continued support!
If you would like to make a donation to help us through CLICK HERE.