The Hudson: An Illustrated Guide to the Living River (Hardcover)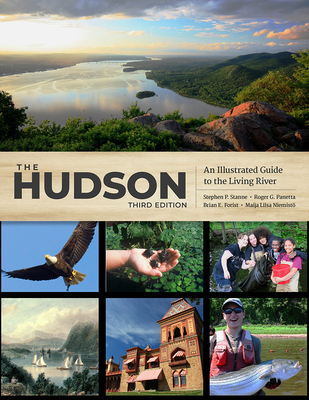 Description
---
Since 1996, The Hudson: An Illustrated Guide to the Living River has been an essential resource for understanding the full sweep of the great river's natural history and human heritage. This updated third edition includes the latest information about the ongoing fight against pollution and environmental damage to the river, plus vibrant new full-color illustrations showing the plants and wildlife that make this ecosystem so special.
 
This volume gives a detailed account of the Hudson River's history, including the geological forces that created it, the various peoples who have lived on its banks, and the great works of art it has inspired. It also showcases the many species making a home on this waterway, including the Atlantic sturgeon, the bald eagle, the invasive zebra mussel, and the herons of New York Harbor. Combining both scientific and historical perspectives, this book demonstrates why the Hudson and its valley have been so central to the environmental movement. 
 
As it charts the progress made towards restoring the river ecosystem and the effects of emerging threats like climate change, The Hudson identifies concrete ways that readers can help. To that end, royalties from the sale of this book will go to the non-profit environmental advocacy group Hudson River Sloop Clearwater, Inc.
About the Author
---
STEPHEN P. STANNE has taught about the Hudson since 1980, coordinating the education programs of Hudson River Sloop Clearwater and those of the Hudson River Estuary Program of New York's Department of Environmental Conservation, in partnership with the New York State Water Resources Institute at Cornell University.
 
ROGER G. PANETTA, now retired professor of history at Fordham University, has made the Hudson River a central subject of his teaching, writing, and curatorial work. He is also editor of Westchester: The American Suburb, Dutch New York, and Kingston: The IBM Years, and author of The Tappan Zee Bridge and the Forging of the Rockland Suburb.
 
BRIAN E. FORIST coordinates the undergraduate program in Outdoor Recreation, Parks, and Human Ecology at Indiana University—Bloomington. His many years of experience as an environmental educator include six years as education specialist with Clearwater.

MAIJA LIISA NIEMISTÖ worked for Clearwater for ten years as an onboard educator and director of the organization's education programs. In 2019 she joined the Hudson River Estuary Program and the New York State Water Resource Institute as an environmental science education specialist.
Praise For…
---
"The breadth of topics covered in this book allows readers to make connections between local history, artistic expression, environmental conservation, and political action. The level of writing is accessible and straightforward, but also suggests further avenues of exploration and learning. This is a valuable resource for everyone from the novice to the river veteran." 
— Chris Bowser

"Is there anything in nature as beguiling as a big river? The Mighty Hudson is sprawling, naturally murky, and marvelously mysterious—it would take many lifetimes on the water to discern its secrets. But helpful clarity is at hand, The Hudson: An Illustrated Guide to the Living River takes the reader on a descriptive and explanatory tour of this iconic waterway, from its source high in the Adirondacks to its melding with the Atlantic Ocean. Even if you are unable to dip your hands in its waters and experience the rhythms of its flow, you will in this volume begin to understand this living river."
— John Waldman

"An essential resource for understanding the full sweep of the great river's natural history and human heritage. The revised volume gives a detailed account of the Hudson River's history, including the geological forces that created it, the species that inhabit it, the various peoples who have lived on its banks, and the great works of art it has inspired. Combining both scientific and historical perspectives, this book demonstrates why the Hudson and its valley have been so central to the environmental movement."
— Chronogram

"The breadth of topics covered in this book allows readers to make connections between local history, artistic expression, environmental conservation, and political action. The level of writing is accessible and straightforward, but also suggests further avenues of exploration and learning. This is a valuable resource for everyone from the novice to the river veteran." 
— Chris Bowser

"Is there anything in nature as beguiling as a big river? The Mighty Hudson is sprawling, naturally murky, and marvelously mysterious—it would take many lifetimes on the water to discern its secrets. But helpful clarity is at hand, The Hudson: An Illustrated Guide to the Living River takes the reader on a descriptive and explanatory tour of this iconic waterway, from its source high in the Adirondacks to its melding with the Atlantic Ocean. Even if you are unable to dip your hands in its waters and experience the rhythms of its flow, you will in this volume begin to understand this living river."
— John Waldman

"An essential resource for understanding the full sweep of the great river's natural history and human heritage. The revised volume gives a detailed account of the Hudson River's history, including the geological forces that created it, the species that inhabit it, the various peoples who have lived on its banks, and the great works of art it has inspired. Combining both scientific and historical perspectives, this book demonstrates why the Hudson and its valley have been so central to the environmental movement."
— Chronogram