Stanley Kubrick Produces (Paperback)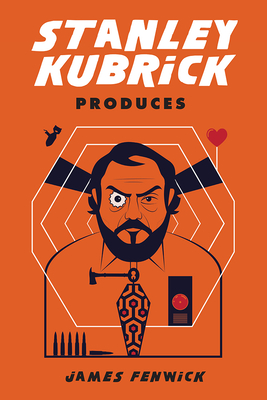 $37.89
Available in our Warehouse: Usually Ships in 3-8 Days
Description
---
Stanley Kubrick Produces provides the first comprehensive account of Stanley Kubrick's role as a producer, and of the role of the producers he worked with throughout his career. It considers how he first emerged as a producer, how he developed the role, and how he ultimately used it to fashion himself a powerbase by the 1970s. It goes on to consider how Kubrick's centralizing of power became a self-defeating strategy by the 1980s and 1990s, one that led him to struggle to move projects out of development and into active production.
 
Making use of overlooked archival sources and uncovering newly discovered 'lost' Kubrick projects (The Cop Killer, Shark Safari, and The Perfect Marriage among them), as well as providing the first detailed overview of the World Assembly of Youth film, James Fenwick provides a comprehensive account of Kubrick's life and career and of how he managed to obtain the level of control that he possessed by the 1970s. Along the way, the book traces the rapid changes taking place in the American film industry in the post-studio era, uncovering new perspectives about the rise of young independent producers, the operations of influential companies such as Seven Arts and United Artists, and the whole field of film marketing.
 
About the Author
---
JAMES FENWICK is a senior lecturer in media and communication at Sheffield Hallam University in the UK. He is the editor of Understanding Kubrick's 2001: A Space Odyssey and author of numerous book chapters and journal articles on the life and work of Stanley Kubrick.
 
Praise For…
---
"James Fenwick has combed the archives, including Kubrick's own as well as others, to fill a missing gap in our knowledge of this legendary filmmaker, namely his role as a producer particularly in those early decades from the 1940s through the 1960s. By locating Kubrick in the economic, industrial and production contexts in which he worked, Fenwick provides an invaluable service to scholars, fans, and critics, adding a dimension to our understanding of his working practices hitherto unachieved. In so doing, Fenwick challenges the image of Kubrick as a controlling producer and future scholarship, including my own, will have to take his findings into account." 
— Nathan Abrams

"Centrally concerned with financing, project development, production logistics, management styles and marketing, this book is a groundbreaking contribution to the ever-expanding literature on Stanley Kubrick, a must-read for scholars and fans. Based on exhaustive archival research, this study skillfully relates Kubrick's work on his films and on numerous unrealised projects to key developments in the American film business from the 1950s onwards, and tells a compelling story about the meteoric rise and, yes, the fall of one of the twentieth century's most important filmmakers."
 
— Peter Krämer

"Bolstered with a tremendous amount of research in the Stanley Kubrick Archives at the University of the Arts London, Fenwick highlights how dedicated Kubrick was to maintaining control of his work from the very beginning of his career."
— Psychobabble

"The World Assembly of Youth and Archival Serendipity" by James Fenwick
http://iamhist.net/2021/01/world-assembly-youth-archival-serendipity/
— IAMHIST Blog

"We know about Kubrick the director, but this book digs into his production credits. By utilizing overlooked archives and lots of Kubrick projects including 'The Cop Killer,' 'Shark Safari,' and 'The Perfect Marriage,'  Fenwick serves up a comprehensive account of the legendary director's life and career from start to finish. "
— IndieWire

"Author James Fenwick discusses his new book Stanley Kubrick Produces"
— William Ramsey Investigates podcast