From Honolulu to Brooklyn: Running the American Empire's Base Paths with Buck Lai and the Travelers from Hawai'i (Paperback)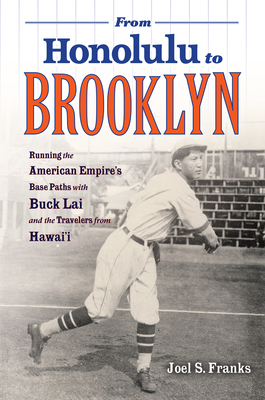 $45.44
This item is not currently available to order.
Description
---
From 1912 to 1916, a group of baseball players from Hawaiʻ i barnstormed the U.S. mainland. While initially all Chinese, the Travelers became more multiethnic and multiracial with ballplayers possessing Chinese, Japanese, Hawaiian, and European ancestries. As a group and as individuals the Travelers' experiences represent a still much too marginalized facet of baseball and sport history. Arguably, they traveled more miles and played in more ball parks in the American empire than any other group of ballplayers of their time. Outside of the major leagues, they were likely the most famous nine of the 1910s, dominating their college opponents and more than holding their own against top-flight white and black independent teams. And once the Travelers' journeys were done, a team leader and star Buck Lai gained fame in independent baseball on the East Coast of the U.S., while former teammates ran base paths and ran for political office as they confronted racism and colonialism in Hawaiʻ i.
About the Author
---
JOEL S. FRANKS is an emeritus professor in the Department of Interdisciplinary Social Science and Sociology at San Jose State University, California. He is the author of numerous books, including Asians and Pacific Islanders in American Football: Historical and Contemporary Experiences.
Praise For…
---
"Joel Franks, a pioneer in Asian Pacific American sports, continues to forge new ground in this area of study with his most recent and elegantly written story of a Hawaiian baseball team's sojourns through the U.S. mainland during one of the nation's most racist periods of time. His attention to context alongside a moving narrative propels the significance of the club's trials and tribulations."
— Samuel O. Regalado

"Joel Franks has resurrected the story of Buck Lai and his Hawaiian baseball team, shedding light on a person who might have been the Asian American equivalent of Jackie Robinson. Despite the racism of the era, Buck Lai became a success story worthy of remembrance and emulation."
— Gerald R. Gems

"Joel Franks, a pioneer in Asian Pacific American sports, continues to forge new ground in this area of study with his most recent and elegantly written story of a Hawaiian baseball team's sojourns through the U.S. mainland during one of the nation's most racist periods of time. His attention to context alongside a moving narrative propels the significance of the club's trials and tribulations."
— Samuel O. Regalado

"Joel Franks has resurrected the story of Buck Lai and his Hawaiian baseball team, shedding light on a person who might have been the Asian American equivalent of Jackie Robinson. Despite the racism of the era, Buck Lai became a success story worthy of remembrance and emulation."
— Gerald R. Gems