Photo-Attractions: An Indian Dancer, an American Photographer, and a German Camera (Hardcover)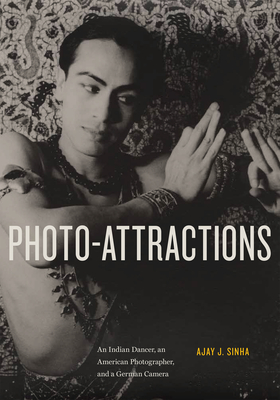 $107.93
This item is not currently available to order.
Description
---
In Spring 1938, an Indian dancer named Ram Gopal and an American writer-photographer named Carl Van Vechten came together for a photoshoot in New York City. Ram Gopal was a pioneer of classical Indian dance and Van Vechten was reputed as a prominent white patron of the African-American movement called the Harlem Renaissance. Photo-Attractions describes the interpersonal desires and expectations of the two men that took shape when the dancer took pose in exotic costumes in front of Van Vechten's Leica camera. The spectacular images provide a rare and compelling record of an underrepresented history of transcultural exchanges during the interwar years of early-20th century, made briefly visible through photography.
 
Art historian Ajay Sinha uses these hitherto unpublished photographs and archival research to raise provocative and important questions about photographic technology, colonial histories, race, sexuality and transcultural desires. Challenging the assumption that Gopal was merely objectified by Van Vechten's Orientalist gaze, he explores the ways in which the Indian dancer co-authored the photos. In Sinha's reading, Van Vechten's New York studio becomes a promiscuous contact zone between world cultures, where a "photo-erotic" triangle is formed between the American photographer, Indian dancer, and German camera.
 
A groundbreaking study of global modernity, Photo-Attractions brings scholarship on American photography, literature, race and sexual economies into conversation with work on South Asian visual culture, dance, and gender. In these remarkable historical documents, it locates the pleasure taken in cultural difference that still resonates today.
About the Author
---
AJAY SINHA is the Julia '73 and Helene '49 Herzig Professor of Art History at Mount Holyoke College. His books include Imagining Architects: Creativity in Religious Monuments of India and the co-edited collection Bollyworld: Popular Indian Cinema through a Transnational Lens.
Praise For…
---
"Ajay Sinha has woven a finely detailed tapestry of the social, personal and aesthetic allusions that contribute greatly to understanding and reimagining Ram Gopal's mystique and presence. This is timely, refreshing, colorful and a much needed intervention in our his-and her-stories around dance and the camera."
— Uttara Asha Coorlawala

"Sinha's is an extremely luminous and well-researched project. It is also a beautifully written, deeply analytical, and entirely accessible book, narrated with verve, and a pleasure to read."
 
 
— Saloni Mathur

"This book arises from a thrilling pas de deux between a Modernist American photographer and an Indian classical dancer, in which it's never entirely clear who is calling the shots. In deciphering the subtle aesthetic, erotic, and intellectual weave of these sessions, Ajay Sinha identifies a third partner in this elaborate dance, namely Van Vechten's German-made Leica camera. This is an exhilarating book, intellectually compelling and visually mesmerizing. And the photographs are to die for." 
— Christopher Benfey

"In Sinha's lucid, incisive analysis, we encounter a world of technological messiness and experimentation, cultural disparities, and new, transitional queer masculinities, all set against the backdrop of the twentieth-century reinvention of Indian dance and the complexities of Euro-American Orientalism. A timely contribution to the fields of both dance studies and visual culture studies."
— Hari Krishnan

"Sinha provides a remarkably rich account that does justice to the contact zone unearthed by his archival discovery. Both vivid and perceptive, Sinha's prose grips from the start and unfolds three days in the 1930s into a marvellous larger panorama of representational practices, a broader inter-cultural landscape, and the intimacy of personal encounters."
— Christopher Pinney

"Photo-Attractions is the fascinating account, by a masterful storyteller, of a single extended portrait session that took place between Indian classical dancer Ram Gopal and photographer Carl Van Vechten in New York in 1938. Sinha's cosmopolitan vision, deeply informed by histories of dance, gesture, performance and photography, offers brilliant new perceptions of trans-cultural exchanges of gender, sexuality and desire in the early twentieth century.  An illumination."
 
— Laura Wexler

"With extraordinary finesse, Ajay Sinha reconstructs two remarkable artists' collaborative fantasy-making through a Leica camera, which produced what he calls the 'photo-dance': a voluptuous intermedial object imbued with cross-cultural provocations. As much an astute commentary on Orientalism, postcoloniality, and race as it is an informed critique of the silences of established archival memory, this virtuosic study is a mesmerizing read."
 
— Rey Chow

"A trio performs: a beautiful male dancer of Indo-Burmese origins, a cult photographer with a Leica, the metal prosthesis that acquires a life of its own — 'photo-eroticism'. This expansively researched book with a non-linear structure has a discursive flamboyance. A historical moment spins into the contemporary; the language of the writer enthralls the reader."
 
— Vivan Sundaram