Mayakovsky Maximum Access: Selected Poems (Paperback)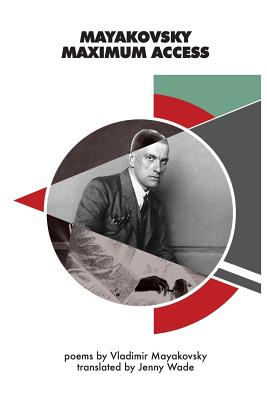 $19.49

Available in our Warehouse: Usually Ships in 3-8 Days
Description
---
Futurist, hooligan, revolutionary, propagandist, lover, clown, martyr, hero-the poet Vladimir Mayakovsky was the powerhouse and rock star of Russia's Silver Age. This bilingual edition provides "maximum access" to his best known poems, and features:
Precise English translations.
Stress marks in the Russian text.
Commentary on syntax, wordplay and neologisms.
Clarification of cultural, historical and literary references.
Essays on theme, persona and poetic technique.
This is undiluted Mayakovsky, in the highest obtainable proof for non-native speakers.
"Readers familiar with Mayakovsky's verse in Russian will enjoy the poetic wit and insight of Jenny Wade's translations, which also shed light on some of the verbal and syntactic riddles of the original: those seeking to grasp the Mayakovsky phenomenon in English can rely on the supreme accuracy of Wade's renderings, and on her overall treatment of her subject, full of artistic admiration and human empathy-yet also distinguished by a critical distance necessary for any real understanding."
-Anna Muza, Senior Lecturer, Slavic Languages and Literatures, UC Berkeley
"'To all of you...I raise my skull, filled with poetry...' In Jenny Wade's masterful translation, with palpable notes, Mayakovsky Maximum Access, what we have is, not only a sensitive, lyrical, down-to-earth reading of a poet who frequented rhyme in his own lyrical, at times, harsh and raw work, but also continual "instructions" on how to enter into this master poet/playwright's work. The book is bilingual and thus open to further interpretation for those who frequent both languages. Pick up this book & fill your skull."
-steve dalachinsky, author of The Final Nite
"The Russian poet, Mayakovsky, is central to his country's literary history. Jenny Wade's translations of his marvelous, yet down to earth, poems are a marvel in themselves. This is an important book-highly recommended "
-Ron Kolm, author of Night Shift
"Jenny Wade has superbly captured the plangent Whitmanesque rhythms of Mayakovsky, written on the wing, on the fly, on the loose, 'a cloud in trousers.' The clarity of Wade's supple translation and explanatory footnotes make this a timely addition to the canon of poetic voices that now, more than ever, need to be heard."
-Max Blagg, author of Slow Dazzle
About the Author
---
Jenny Wade is a musician (Swans, Rude Buddha, Vodka, Timber) and computer programmer who suffers from an obsession with 20th-century Russian poetry. She has an MA in Russian Literature from UVA.