You Know You Want This: "Cat Person" and Other Stories (Hardcover)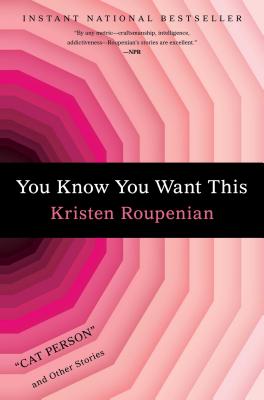 $27.49
This item is not currently available to order.
February 2019 Indie Next List
---
"I was completely enthralled with Kristen Roupenian's 'Cat Person' story in the New Yorker and couldn't wait to pick up her collection. Like 'Cat Person,' each story pushes boundaries, holding a magnifying glass up to social norms and what our society accepts. The writing is fantastic, and the cadence of each story is strikingly unique. This book will delight fans of Roupenian's viral story and will start many more conversations in its wake."
— Courtney Flynn, Trident Booksellers & Cafe, Boston, MA
Summer 2020 Reading Group Indie Next List
---
"This collection of twisted stories peels back the layers of the human mind and reveals the often dark, often obsessive qualities kept in the shadows. Each story adds a touch of surrealism to the everyday, from birthday parties to listening to music in the park to the more manipulative forms of relationships."
— Lauren Nopenz Fairley, Curious Iguana, Frederick, MD
Description
---
"What's special about 'Cat Person,' and the rest of the stories in You Know You Want This, is the author's expert control of language, character, story—her ability to write stories that feel told, and yet so unpretentious and accessible that we think they must be true." —The New York Times Book Review

"Kristen Roupenian isn't just an uncannily great writer, she also knows things about the human psyche—things that I always supposed I would learn at some point, but never did. Some of these things are about men's minds in particular and I'm pretty sure she's right. The world has made a lot more sense since reading this book." —Miranda July, New York Times bestselling author of The First Bad Man

"If you think you know what this collection will be like, you're wrong. These stories are sharp and perverse, dark and bizarre, unrelenting and utterly bananas. I love them so, so much." —Carmen Maria Machado, National Book Award Finalist and author of Her Body and Other Parties

A compulsively readable collection of short stories that explore the complex—and often darkly funny—connections between gender, sex, and power across genres.

You Know You Want This brilliantly explores the ways in which women are horrifying as much as it captures the horrors that are done to them. Among its pages are a couple who becomes obsessed with their friend hearing them have sex, then seeing them have sex…until they can't have sex without him; a ten-year-old whose birthday party takes a sinister turn when she wishes for "something mean"; a woman who finds a book of spells half hidden at the library and summons her heart's desire: a nameless, naked man; and a self-proclaimed "biter" who dreams of sneaking up behind and sinking her teeth into a green-eyed, long-haired, pink-cheeked coworker.

Spanning a range of genres and topics—from the mundane to the murderous and supernatural—these are stories about sex and punishment, guilt and anger, the pleasure and terror of inflicting and experiencing pain. These stories fascinate and repel, revolt and arouse, scare and delight in equal measure. And, as a collection, they point a finger at you, daring you to feel uncomfortable—or worse, understood—as if to say, "You want this, right? You know you want this."
About the Author
---
Kristen Roupenian holds a PhD in English from Harvard, an MFA from the Helen Zell Writers' Program at the University of Michigan, and a BA from Barnard College. She is the author of the short story, "Cat Person," which was published in The New Yorker and selected by Sheila Heti for The Best American Nonrequired Reading 2018. She is at work on a novel. Follow her on Instagram @KRoupenian.
Praise For…
---
"By any metric—craftsmanship, intelligence, addictiveness—Roupenian's stories are excellent."
—NPR.ORG

"What's special about 'Cat Person,' and the rest of the stories in You Know You Want This, is the author's expert control of language, character, story—her ability to write stories that feel told, and yet so unpretentious and accessible that we think they must be true."
—New York Times Book Review

"Kristen Roupenian isn't just an uncannily great writer, she also knows things about the human psyche—things that I always supposed I would learn at some point, but never did. Some of these things are about men's minds in particular and I'm pretty sure she's right. The world has made a lot more sense since reading this book."
—Miranda July, New York Times bestselling author of The First Bad Man

"If you think you know what this collection will be like, you're wrong. These stories are sharp and perverse, dark and bizarre, unrelenting and utterly bananas. I love them so, so much."
—Carmen Maria Machado, National Book Award Finalist and author of Her Body and Other Parties

"In an age that needs a wrecking ball You Know You Want This provides one. This is a raucous, visceral page-turner that tunnels into the heart of relationships gone awry, modern-day miscommunications, and other horrors of being human. Not polite. Suffers no fools. Takes no prisoners. Read it."
—Jeff VanderMeer, New York Times bestselling author of Annihilation

"These transgressive and darkly electric stories announce the arrival of a bold, new, necessary voice in American short fiction."
—Claire Vaye Watkins, Story Prize-winning "5 Under 35" author of Gold Fame Citrus and Battleborn

"The stories in You Know You Want This are wildly strange and deeply human. When it comes to the secret hurt and twisted desires that lurk in seemingly mundane encounters between men and women, Kristen Roupenian is a super genius. I loved every single word of this freaky, fantastic book."
—Julie Buntin, author of Marlena

"Although You Know You Want This may be timely in its occasional adjacency to #MeToo, its real canniness comes from apprehending the psychology not only of power, but of power-hunger as, itself, a form of weakness: how people harbor an impulse toward sadistic narcissism, and how little it takes for them to succumb to it."
—The New Republic

"Roupenian's You Know You Want This is a scintillating new debut collection, with a glorious revenge comedy at its center… 'Cat Person' was our tip-off to pay attention to what Roupenian did next. Now that it's here, well, you know you want it."
—Boston Globe

"It's unheard of for a short story to go viral, but 'Cat Person'—through a combination of impossibly sharp writing and impossibly good timing—had done it. A year later, Roupenian's debut collection proves that success wasn't a fluke. The 12 visceral stories here range from uncomfortable to truly horrifying and are often—though not always—focused on the vicious contradictions of being female… Unsettling, memorable, and—maybe perversely—very, very fun."
—Kirkus Reviews, starred review

"No matter where she takes you, Roupenian is a tour guide with an unforgettable voice."
—PEOPLE

"Roupenian has a gift for turning mundane social situations into a haunting scene of catastrophe, and she puts that talent to use here. If you can stomach it, it's a stirring read."
—Marie Claire

"Each story is a refrain of the private indignities that keep you lying awake at night, the things that leave you wondering, Am I a good person, despite wanting what I want? With a wry voice and an all-knowing smirk, Roupenian lances through the sexual anxiety that permeates much of contemporary literature and society. Look at who you are, she dares us. 'Look at what you've done.'"
—Paris Review

"Roupenian inked a huge book deal off of her buzzy New Yorker short story 'Cat Person,' and here's the first result: a collection that provocatively tackles sex and power."
—Entertainment Weekly

"Short stories rarely go viral like Roupenian's 'Cat Person' did after it was published in The New Yorker last December. It sparked an extensive conversation on social media over its depiction of an uncomfortable sexual relationship. Doubtless many will be looking to the author's first story collection to see if literary lightning can strike twice."
—HuffPost

"The author of the viral New Yorker story is back with a collection of stories, ranging from the real to the surreal. The stories are united in their theme: the everyday horrors that plague women, as well as the horrors women unleash."
—REFINERY 29

"A collection of (make-your-skin-crawl) short stories by Kristen Roupenian, who wrote The New Yorker's mega-viral 'Cat Person' from December 2017, will be out in January. The collection, titled You Know You Want This, plus an upcoming novel, HBO miniseries and A24 movie deal for Roupenian, means we won't see the last of her (and her uncomfortably real tales) anytime soon."
—PUREWOW

"Although You Know You Want This may be timely in its occasional adjacency to #MeToo, its real canniness comes from apprehending the psychology not only of power, but of power-hunger as, itself, a form of weakness: how people harbor an impulse toward sadistic narcissism, and how little it takes for them to succumb to it."
—The New Republic

"Roupenian has an ear for dialogue and a knack for satire… Curious readers will be rewarded."
—Booklist

"The hotly anticipated full collection from the writer who set the internet ablaze with 'Cat Person' will surprise some readers—it's much more heavily weighted towards horror than it is towards realist social dynamics. That is, unless you consider a woman who desperately wants to bite those around her, but particularly this one sexual harassing jerk at her office, as a realist social dynamic . . . which I have to admit I sort of do."
—Literary Hub (lithub.com)

"You probably know Kristen Roupenian from her viral hit New Yorker story, 'Cat Person.' I have heard her referred to as 'the Cat Person Lady' multiple times. What isn't exactly obvious from that story, but becomes clear as soon as you open her forthcoming collection, is that she's really a horror writer—and not just 'horror' in the sense of modern dating and gross men, but also in the sense of gruesome acts, terrifying scenarios, and creeping dread. Come January, everyone's in for a surprise."
—Lit Hub Daily

"Roupenian's solid debut is highlighted by moments of startling insight into the hidden—and often uncomfortable—truths underneath modern relationships… there are some stellar moments of pithy clarity: In 'Scarred,' upon summoning a way to cheat desire, the protagonist muses, 'I had everything that could be wanted. I invented new needs just to satisfy.' This is a promising debut."
—Publishers Weekly

"You Know You Want This is the perfect short story collection to pick up this winter... [it] seems poised to become one of the buzziest books of the season."
—Bookish

"There are lots of surprises awaiting you in Roupenian's debut short story collection. Highlighting characters who are dark, hilarious, awful, and amazing, these tales will make you shriek with discomfort and enjoyment, daring you to revel in the anti-hero and -heroines' downright frightening behavior and relationships."
—B&N Reads

"When The New Yorker published Kristen Roupenian's short story 'Cat Person,' the internet went wild. In January, Roupenian will release her first collection of short stories, and you know you need to be the first one to get your hands on a copy."
—Bustle

"In her highly anticipated debut collection, the author behind the viral 'Cat Person' story offers up a host of strange, fascinating, and downright delightful narratives you won't be able to stop talking about. Spanning a range of genres and topics, it is equal parts dark, uncomfortable, and funny."
—Bustle

"Readers who are looking for more uncomfortably realistic renderings of awkward romantic encounters won't be disappointed, but this collection is so much more than that, offering an array of biting (sometimes literally!) looks at the ways our most hidden perversions manifest in our lives. It's a razor-sharp, often ruthless, never less than relentless examination of the way we are now. Scary, right? But you know you want it."
—NYLON

"Exceptionally compelling; I love the way these stories create a world that is simultaneously familiar and deeply unsettling, showing—in strange and surprising ways—the interplay of disgust, fear and desire. Images from the book keep coming back to me: its narratives feel both mythical and completely modern."
—Megan Hunter, author of The End We Start From

"It's no mean feat to write a work of short fiction that goes viral... This transgressive collection of tell-it-like-it-is tales, brilliantly dissecting our darkest yearnings, proves that Roupenian is no one-hit wonder."
—O Magazine

"You Know You Want This seems to touch on conversations that the country has yet to have—often using horror and magical realism to illuminate the darker corners of our world."
—Rolling Stone

"There is always some anxiety following such a short, steep rise to recognition, but in this collection Roupenian lives up to those high expectations. The stories are wonderfully varied in execution, from realist to surreal, staying fresh while circling one primary concern: how men and women relate to one another, and how often that relationship can go wrong."
—Vanity Fair

"[Roupenian's] writing exists in that nebulous dimension just before desire turns into repulsion. It hits a pinpoint target of an unspeakable discomfort. Seen one way, it's a relief to have recognition; in another, like the title itself, it's an indictment."
—Elle Magazine

"Roupenian's commitment to representing the human capacity for cruelty and perversion is a kind of bravery, but while her story hit a nerve, this volume hammers away at it."
—Vogue

"The best fiction leaves us thinking about it long after turning the last page, and with ['Cat Person'], author Kristen Roupenian established herself as a writer to watch. Her short-story collection, You Know You Want This, includes that story and others, all of which will have you talking about them long after finishing."
—PopSugar