Group: How One Therapist and a Circle of Strangers Saved My Life (Hardcover)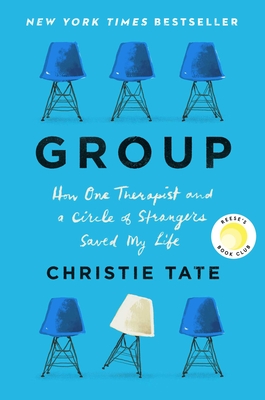 $27.00
Coming Soon - Available for Pre-Order Now
Description
---
"Hilarious and engrossing." —People * "Fearless candor and vulnerability." —Time * "Funny, emotional, and insightful." —Good Morning America * "Honest, addictive." —HelloGiggles * "Wonderful...sparkle and intelligence." —Booklist * "Hilarious and eye-opening." —CNN * "Dazzling." —Publishers Weekly

The refreshingly original debut memoir of a guarded, over-achieving, self-lacerating young lawyer who reluctantly agrees to get psychologically and emotionally naked in a room of six complete strangers—her psychotherapy group—and in turn finds human connection, and herself.

Christie Tate had just been named the top student in her law school class and finally had her eating disorder under control. Why then was she driving through Chicago fantasizing about her own death? Why was she envisioning putting an end to the isolation and sadness that still plagued her in spite of her achievements?

Enter Dr. Rosen, a therapist who calmly assures her that if she joins one of his psychotherapy groups, he can transform her life. All she has to do is show up and be honest. About everything—her eating habits, childhood, sexual history, etc. Christie is skeptical, insisting that that she is defective, beyond cure. But Dr. Rosen issues a nine-word prescription that will change everything: "You don't need a cure, you need a witness."

So begins her entry into the strange, terrifying, and ultimately life-changing world of group therapy. Christie is initially put off by Dr. Rosen's outlandish directives, but as her defenses break down and she comes to trust Dr. Rosen and to depend on the sessions and the prescribed nightly phone calls with various group members, she begins to understand what it means to connect.

Group is a deliciously addictive read, and with Christie as our guide—skeptical of her own capacity for connection and intimacy, but hopeful in spite of herself—we are given a front row seat to the daring, exhilarating, painful, and hilarious journey that is group therapy—an under-explored process that breaks you down, and then reassembles you so that all the pieces finally fit.
About the Author
---
Christie Tate is a Chicago-based writer and essayist. She has been published in The New York Times (Modern Love), The Washington Post, Chicago Tribune, McSweeney's Internet Tendency, and elsewhere.
Praise For…
---
"It takes courage to bare your soul in front of a therapist, but when you add six strangers to the mix, it becomes an act of faith. In Group, Christie Tate takes us on a journey that's heartbreaking and hilarious, surprising and redemptive—and, ultimately, a testament to the power of connection. Perhaps the greatest act of bravery is that Tate shared her story with us, and how lucky we are that she did." —Lori Gottlieb, New York Times bestselling author of Maybe You Should Talk to Someone

"Eugene Onegin made me want to move to Russia and Little Women made me want to have sisters. Group made me want to rewind a decade, sit with a number of strangers and one shamanic doctor, strip down and survive. This unrestrained memoir is a transporting experience and one of the most startlingly hopeful books I have ever read. It will make you want to get better, whatever better means for you." —Lisa Taddeo, New York Times bestselling author of Three Women

"Group sucked me in and never let go. Real transformation is not for the faint of heart, and in these pages Christie Tate captures her evolution in all its misery and hilarity, along with the beauty of bearing witness to one another as we grow. Group reminds us that we are hurt by other people, but we can be healed by them too. Damn, I want to join a group now." —Sarah Hepola, New York Times bestselling author of Blackout: Remembering the Things I Drank to Forget

"In breathtaking bursts of beauty and vulnerability, Christie Tate's Group dares to tell the story of a body from the inside out. There is a place between pain and joy and her body is the word for it. This book will remind you how to come back to yourself even when you want to give up, make you laugh, make you cry, help you breathe. This book will save lives." —Lidia Yuknavitch, author of Verge and The Misfit Manifesto.

"[A] dazzling debut memoir...Readers will be irresistibly drawn into Tate's earnest and witty search for authentic and lasting love." —Publishers Weekly (starred review)

"What actually helps when we despair? In this therapeutic page-turner, a boon especially to women struggling with loss, loneliness, or imposter syndrome, Christie Tate tells the story of how she overcame trauma and found love. Her hard-won strategy is as simple to say as it is tough to do: keep showing up." —Ada Calhoun, New York Times bestselling author of Why We Can't Sleep

"Christie Tate's...writing displays a wonderful combination of clear and simple with sparkle and intelligence...[Group is] a compelling narrative that empowers readers to better understand their own lives." —Booklist (starred review)

"Tate takes readers on a journey through her life-changing road to recovery and in turn finds hope, human connection and a new take on life." —CNN (Best Books of October 2020)
We appreciate your continued support!
If you would like to make a donation to help us through CLICK HERE.