Undermoney: A Novel (Paperback)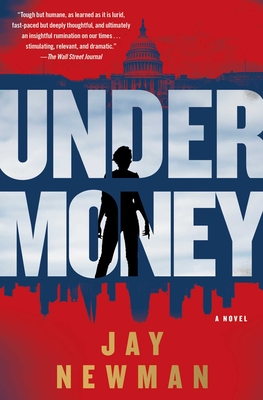 Description
---
From a seasoned insider of global finance comes a "stimulating, relevant, and dramatic" (The Wall Street Journal) thriller about a group of American operatives who secretly take over the world's largest dark money fund—"a gripping thriller that takes you into the world of New York hedge funds, Russian money launderers, and DC power politics [that] makes you feel like you're actually there" (Bill Browder, author of Red Notice).

When a US airdrop of billions of dollars disap­pears in the desert sands of Syria, only a small group of military operatives knows its ultimate destination or why it has been stolen. Their goal is no less than the restoration of America's geopolitical dominance on the global stage. Essential to this scheme are Greta Webb, a sophisticated CIA operative who is an expert on dark money, not to mention lethally skilled in hand-to-hand combat, and Elias Vicker, the damaged, dangerous soul who runs the world's largest hedge fund.

To achieve its goals, the group must form dangerous alliances. One is with the hidden family that manages the largest private pool of capital that has ever existed. Another is with Fyodor Volk, the ruthless founder of Russia's most successful private military company, a mercenary with ties to Vladimir Putin. Volk has his eye on Greta. She would be wise to avoid him but cannot.

Arcing from Manhattan's finest apartments to Washington, DC, from Middle Eastern war zones to private European bank vaults, Jay Newman's Undermoney follows the Americans as they are enmeshed in the world of dark money and confront ever-increasing danger. Ultimately, they must decide whether their objectives are worth the cost of sacrificing not just a few but potentially many human lives. "Unexpectedly timely" (The New Yorker), Undermoney is a "wildly entertaining peek behind the curtain of American politics, financial skullduggery, and high-stakes global conflict" (Nelson DeMille).
About the Author
---
Jay Newman has worked in the field of international finance as a trader, investment banker, and investor for forty years. During most of that time, he focused on investments in the defaulted debt of sovereign nations in Latin America, Eastern Europe, Africa, and Asia. Undermoney is his first novel.
Praise For…
---
"An important story, and Newman tells it with a combination of investigative skill and dramatic flair. . . . The tale is intricate, and Newman's plotting is tight. The twists are compelling, as spectacular locations spray forth from the pages like rounds from a PP-2000. . . . Newman's uncanny eye for detail is on constant display. . . . Undermoney is a sophisticated, richly researched book. . . . Tough but humane, as learned as it is lurid, fast-paced but deeply thoughtful, and ultimately an insightful rumination on our times. . . . provide[s] escape through storytelling, certainly, but also commentary and no little degree of passionate illumination. . . . stimulating, relevant, and dramatic." —Wall Street Journal

"Essential reading—makes your heart beat faster, like a thriller should, but also teaches you something big, which most thrillers don't." —Lee Child

"The sovereign-debt investor, best known for a fifteen-year legal fight with Argentina, channeled Tom Wolfe and John le Carré to write Undermoney. . . . [the novel] combines espionage, financial intrigue, and geopolitics with a cynicism developed through years of observing politicians and Wall Street titans up close. . . . unexpectedly timely." —Sheelah Kolhatkar, The New Yorker

"From page one you are immersed in a world of international intrigue and political power play that is nothing short of jaw-dropping. Jay Newman's Undermoney combines the fresh feel and energy of a debut novel with the self-assured writing of a man who knows something we don't know and knows it well. Truly a ground-breaking, unconventional, and wildly entertaining peek behind the curtain of American politics, financial skullduggery, and high-stakes global conflict." —Nelson DeMille

"There's what the media tell you is going on in the worlds of business, politics, and foreign policy: the news. Then there's what the smart money knows: the chatter at Davos, Aspen, Palm Beach, and in the Hamptons. But down below that there's the undermoney—the stuff that connects populist presidential campaigns to flashy hedge funds to secretive pools of private capital to opaque money-laundering operations to bloodthirsty Russian mafiosi to fanatical terrorist organizations. Jay Newman writes about all this with an expertise that is terrifying and a literary flair that belies his many years on Wall Street." —Niall Ferguson, author of The Ascent of Money

"Undermoney is a gripping thriller that takes you into the world of New York hedge funds, Russian money launderers, and D.C. power politics. Jay Newman's intimate knowledge of these worlds makes you feel like you're actually there." —Bill Browder, New York Times bestselling author of Red Notice

"All hail Jay Newman! If even half of the astonishing, horrific, gobsmacking occurrences in this prestissimo-paced thriller bear even the slightest resemblance to reality, the world of international high finance doesn't need the SEC—it needs an exorcism." —James Grant, Grant's Interest Rate Observer

"Newman's international-finance background is evident here as he takes readers deep into the cloaked financial-espionage world where tricked-out planes and jet packs provide glitter and layers of double-crossings mask the final play." —Booklist