She Come By It Natural: Dolly Parton and the Women Who Lived Her Songs (Hardcover)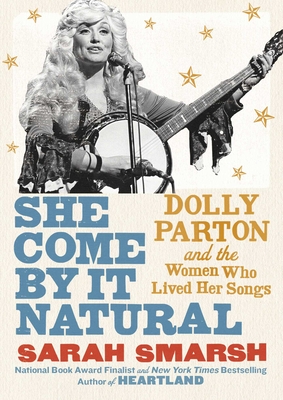 Description
---
The National Book Award finalist and New York Times bestselling author of Heartland focuses her laser-sharp insights on a working-class icon and one of the most unifying figures in American culture: Dolly Parton.

Growing up amid Kansas wheat fields and airplane factories, Sarah Smarsh witnessed firsthand the particular vulnerabilities—and strengths—of women in working poverty. Meanwhile, country songs by female artists played in the background, telling powerful stories about life, men, hard times, and surviving. In her family, she writes, "country music was foremost a language among women. It's how we talked to each other in a place where feelings aren't discussed." And no one provided that language better than Dolly Parton.

Smarsh challenged a typically male vision of the rural working class with her first book, Heartland, starring the bold, hard-luck women who raised her. Now, in She Come By It Natural, originally published in a four-part series for The Journal of Roots Music, No Depression, Smarsh explores the overlooked contributions to social progress by such women—including those averse to the term "feminism"—as exemplified by Dolly Parton's life and art.

Far beyond the recently resurrected "Jolene" or quintessential "9 to 5," Parton's songs for decades have validated women who go unheard: the poor woman, the pregnant teenager, the struggling mother disparaged as "trailer trash." Parton's broader career—from singing on the front porch of her family's cabin in the Great Smoky Mountains to achieving stardom in Nashville and Hollywood, from "girl singer" managed by powerful men to leader of a self-made business and philanthropy empire—offers a springboard to examining the intersections of gender, class, and culture.

Infused with Smarsh's trademark insight, intelligence, and humanity, She Come By It Natural is a sympathetic tribute to the icon Dolly Parton and—call it whatever you like—the organic feminism she embodies.
About the Author
---
Sarah Smarsh is a Kansas-based journalist who has reported for The New York Times, The Guardian, and many other publications. Her first book, Heartland: A Memoir of Working Hard and Being Broke in the Richest Country on Earth, was a finalist for the National Book Award. A 2018 research fellow at Harvard University's Shorenstein Center on Media, Politics and Public Policy, Smarsh is a frequent speaker and commentator on economic inequality.
Praise For…
---
"Parton is endlessly quotable and fun to read about, but [She Come By It Natural] is also enriched by its glimpses into Smarsh's Kansan family. . . Knowing when to fight back and when to cut your losses is, in Smarsh's account, a talent shared by Parton and many of the working-class women she has immortalized in song and onscreen."
—Harper's

"Smarsh doesn't pretend that Parton was ever a spokesperson for the [feminist] movement. She was something more meaningful: not a mouthpiece but a model."
—The New Yorker

"As she did in her 2018 memoir, Heartland, Smarsh offers a feminist take on America's rural working-class women who eschew the term "feminism." The author looks at how songs by Dolly Parton and other country-music performers illuminate stories of women who might otherwise be overlooked: tired waiters, pregnant teenagers, spurned wives, loyal daughters."
—Washington Post, 10 Books to Read in October

"She Come By It Natural is a praise song for the cultural icon, but what emerges from an examination of Parton's life and work is just how much relevance her lyrics have had -- for Smarsh and for other women -- and why so much of the book is so deeply personal. . . . The fruit of that devotion is a tribute to the woman who continues to demonstrate that feminism comes in coats of many colors."
—Los Angeles Times

"[Smarsh] skillfully illustrat[es] how [Parton's] music speaks to women, especially those from a lower-class background,"
—Bookreporter

"Passionate, smart, and earnest."
—AirMail

"Sarah Smarsh expertly explores the overlooked social contributions of women . . . . [An] inspiring tribute to Dolly Parton herself."
—CNN.com

"Smarsh explains that Parton's full legacy is much deeper and more rewarding than it might seem from casual listening."
—Kansas Pitch

"Throughout the book, Parton and Smarsh are in unspoken dialogue with one another, sharing common language and struggle through the beauty of country music."
—Wilamette Week

"She Come by It Natural will appeal to a wide range of readers who are curious about Parton. Smarsh finds a sweet spot between biography and memoir that lets her move nimbly between her personal affection for Parton's impact on women's lives and her journalistic analysis of Parton's artistry, business acumen, and iconic role in our quick-changing zeitgeist."
—Chapter 16

"[She Come By It Natural] includes sharp social commentary and well-placed personal anecdotes, [and] is at its heart a love letter both to Parton and to the women who continue to see themselves in her songs."
—ShelfAwareness

"Smarsh seamlessly weaves her family's experiences with Parton's biography—triumphs and shortcomings alike—and cultural context. She Come by It Natural is, as a result, a relatable examination of one of country music's brightest stars and an inspiring tale of what women can learn from one another."
—BookPage

"Smarsh and Parton are a perfect pairing for the kind of in-depth examination into gender and class and what it means to be a woman and a working class hero that feels particularly important right now."
—Refinery29, most anticipated

"We will always love reading about Dolly Parton,"
—Yahoo! Life

"Affectionate and astute ... Smarsh's luminescent prose and briskly tempered storytelling make for an illuminating take on a one-of-a-kind artist."
—Publishers Weekly, starred review

"A highly readable treat for music and feminist scholars as well as Parton's legion of fans."
—Kirkus Reviews

"Readers get the impression that Smarsh read and listened to the artist's every word and watched every filmed second of her in order to recreate Parton here in fine, sparkling form. Smarsh's range as a storyteller (much like her subject's) makes this the best kind of American story, one of a person so extraordinarily vast that we find room for ourselves, too."
—Booklist

"A warm-hearted journey into what Dolly means to generations of women who saw their lives reflected in her songs, who first embraced her not as a star but a sister."
—Elizabeth Catte, author of What You Are Getting Wrong About Appalachia
We appreciate your continued support!
If you would like to make a donation to help us through CLICK HERE.