The Silence: A Novel (Hardcover)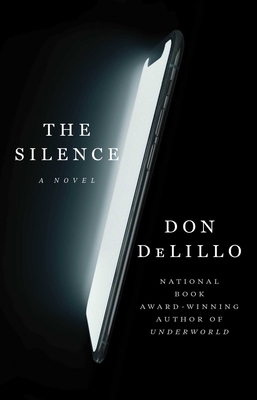 Description
---
From one of the most dazzling and essential voices in American fiction, a timely and compelling novel set in the near future about five people gathered together in a Manhattan apartment, in the midst of a catastrophic event.

Don DeLillo completed this novel just weeks before the advent of Covid-19. The Silence is the story of a different catastrophic event. Its resonances offer a mysterious solace.

It is Super Bowl Sunday in the year 2022. Five people, dinner, an apartment on the east side of Manhattan. The retired physics professor and her husband and her former student waiting for the couple who will join them from what becomes a dramatic flight from Paris. The conversation ranges from a survey telescope in North-central Chile to a favorite brand of bourbon to Einstein's 1912 Manuscript on the Special Theory of Relativity.

Then something happens and the digital connections that have transformed our lives are severed.

What follows is a dazzling and profoundly moving conversation about what makes us human. Never has the art of fiction been such an immediate guide to our navigation of a bewildering world. Never have DeLillo's prescience, imagination, and language been more illuminating and essential.

"Mysterious...Unexpectedly touching...[DeLillo offers] consolation simply by enacting so well the mystery and awe of the real world." —Joshua Ferris, The New York Times Book Review

"DeLillo [has] almost Dayglo powers as a writer." —Michiko Kakutani, The New York Times

"Brilliant and astonishing…a masterpiece…manages to renew DeLillo's longstanding obsessions while also striking deeply and swiftly at the reader's emotions…The effect is transcendent." —Charles Finch, Chicago Tribune

"Daring... provocative... exquisite...captures the swelling fears of our age."
—Ron Charles, The Washington Post
About the Author
---
Don DeLillo is the author of seventeen novels including White Noise, Libra, Underworld, Falling Man, and Zero K. He has won the National Book Award, the PEN/Faulkner Award for Fiction, the PEN/Saul Bellow Award, the Jerusalem Prize for his complete body of work, and the William Dean Howells Medal from the American Academy of Arts and Letters. HIs story collection The Angel Esmeralda was a finalist for the Story Prize and the PEN/ Faulkner Award for Fiction. In 2013, DeLillo was awarded the Library of Congress Prize for American Fiction, and in 2015, the National Book Foundation awarded DeLillo its Medal for Distinguished Contribution to American Letters.
Praise For…
---
Praise for THE SILENCE:

"DeLillo . . . creates a powerful rendering of a crowd unified by a terrifying event that defies all available models of comprehension." —The New Yorker

"[Readers] will find something poignant and terrible in this strange unbroken silence."
—Michael Gorra, NY Review of Books

"[DeLillo] isolate[s] the raw material of the form, the language, through speech fragments and monologues, in the same way a painter might with color ... It's an ability of DeLillo's both philosophic and poetic, to stare at the familiar thing, to see the familiar new…"
—Alexander Sammartino, Literary Hub

"Not since Samanta Schweblin's Fever Dream have I read such a mesmerizing, menace-packed short novel; and like Schweblin, DeLillo views technology as our Achilles' heel. . . . DeLillo's prose is always supple, his gaze into our culture's black hole as penetrating as ever. Equal parts lush and spare, The Silence never settles for easy answers."
—Hamilton Cain, Minneapolis Star-Tribune

"DeLillo's shrewd, darkly comic observations about the extravagance and alienation of contemporary life can still slice like a scalpel."
—Leah Greenblatt, EW

"To read DeLillo is to engage in a process wherein the author's clarity forces our own...He treats the topical...as a yearning for commonality, mutuality, something to share...He wants to tell us not just what is, but how it feels, and It's this ability to describe the moment's emotion that constitutes his genius."
—Joshua Cohen, New York Times Book Review

"It is in his deft handling of the novel event's consequences—the space he creates in the wake of disruption—that DeLillo achieves his most profound effects."
—M. C. Armstrong, The Brooklyn Rail

"This masterfully written tale is compelling, timely and utterly eye-opening."
—Kami Phillips, CNN Underscored

"DeLillo is the premiere 'writer's writer'…He…returns with new language, reconstructing sentence by sentence and paragraph by paragraph true-feeling motifs about how all of this works."
—Lauren Michele Jackson, Ssense

"The dialogue is stunning. The final page was a knockout. Again, it's short—more like a novella—but it will likely stick with you. And it is prescient to the world we are living in today. If you have been longing to read more DeLillo, it will be a reading highlight of your year. I'm still thinking about it, and I will go back and read it again soon."
—Chris Schluep, Amazon Book Review

"The American master's latest work of fiction..."
—AV Club

"This is hardly vintage DeLillo — the incantatory, techno-obsessed prose occasionally borders on self-parody — but few authors compare when it comes to evoking our anxiety-saturated modern world."
—NJ.com

"In this wry and cutting meditation on collective loss, a rupture severs us, suddenly, from everything we've come to rely on. The Silence seems to absorb DeLillo's entire body of work and sand it into stone or crystal."
—Rachel Kushner

"A swift and searing haunting of a novel. An encapsulation of our continuing crisis of aberration and pause. THE SILENCE is prime DeLillo."
—Joy Williams

"This brief, disturbing story gets the sudden breakdown of society exactly right… This is a small but vivid book, and in its evocation of people in the throes of social crisis, it feels deeply resonant."
—Kirkus, starred review

"As virus-imperiled readers take in this razor-sharp, yet tenderly forlorn, witty, nearly ritualized, and quietly unnerving tale, they will gingerly discern just how catastrophic this magnitude of silence and isolation would be.

HIGH-DEMAND BACKSTORY: Every work by DeLillo is literary news, and the urgency and catalyzing relevance of this concise, disquieting novel will exponentially accelerate interest."
—Booklist, starred review

"DeLillo (Zero K) applies his mastery of dialogue to a spare, contemplative story...In the end, readers gain the timely insight that some were born ready for disaster while others remain unequipped...the work stands out among DeLillo's short fiction."
—Publisher's Weekly

"Don DeLillo has written about America in the 20th century so acutely and capaciously that he's become a fixed star in our literary firmament. . . . . His work is darkly funny . . . [The Silence] is a powerful, short novel."
—Carolyn Kellogg, Los Angeles Times

"[DeLillo] is our laureate of paranoia and dread, a man who fully tapped into the mood of his age, as vital at his peak as any writer alive. . . . [The Silence] is a pristine disaster novel. . . . [H]is best writing here reminds us that, as he puts it . . . 'Life can get so interesting that we forget to be afraid.'"
—Dwight Garner, The New York Times

"Shrewd . . . . It's tempting to view "The Silence" as reflective of the COVID-19 era, but it'd be wrong. . . . In spite of its short length, it gets at something deeper and, in its emphasis on where individuals choose to direct their attention, something more quintessentially American. If you were magically freed from all your digital obligations, how would you occupy yourself? If you had the option, would you choose it?"
—J. Howard Rosier, Boston Globe

"DeLillo delights in, rather than despairs over, the absurdities of modern experience...As an oenophile loves wine, Don DeLillo loves words . . The field of language is the real setting of "The Silence."
—Sam Sacks, Wall Street Journal

"Surging forth at full throttle before settling down to seated stillness, The Silence, the new novel by Don DeLillo (Scribner, 2020), is a dark and luminous, amusing and devastating theater of systemic shocks and confluent paradoxes. . . . DeLillo is often lauded as something of a soothsayer, and The Silence, an engrossing addition to his oeuvre, is sure to add credence to that reputation."
—Paul D'Agostino, Hyperallergic

Praise for ZERO K:

"Mr. DeLillo's haunting new novel, Zero K — his most persuasive since his astonishing 1997 masterpiece, Underworld — is a kind of bookend to White Noise: somber and coolly futuristic, where that earlier book was satirical and darkly comic. . . . reminds us of his almost Day-Glo powers as a writer and his understanding of the strange, contorted shapes that eternal human concerns (with mortality and time) can take in the new millennium."
—Michiko Kakutani, New York Times

"One of the most mysterious, emotionally moving and formally rewarding books of DeLillo's long carer... Unexpectedly touching... [DeLillo offers] consolation simply by enacting so well the mystery and awe of the real world... I finished it stunned and grateful."
—Joshua Ferris, The New York Times Book Review

"Brilliant and astonishing… a masterpiece… full of DeLillo's amazing inimitable scalpel perceptions, fluent in the ideas we'll be talking about 20 years from now… ZERO K somehow manages to renew DeLillo's longstanding obsessions while also striking deeply and swiftly at the reader's emotions….The effect is transcendent."
—Charles Finch, Chicago Tribune

"Daring... provocative... exquisite... captures the swelling fears of our age."
—Ron Charles, Washington Post

"Mr. DeLillo's true brilliance has always been as a satirist. Despite its morbid subject, this is a terrifically funny novel."
—Sam Sacks, Wall Street Journal

"Zero K is science fiction of a kind that takes place five minutes from now and a novel of ideas that's deeply emotional."
—Jeff Baker, Seattle Times

"A profound and deeply moral book."
—Ann Levin, Associated Press

"Powerful. . . . Zero K may poke fun at life extension, but it gives us the warmest depicture of a DeLillo novel yet at the intimate reason for this perpetual Icarus complex. . . . the most powerful reason for this desire for transcendence is love, and as Zero K so poignantly reminds, love is one element that does not survive at subfreezing zero kelvin."
—John Freeman, Boston Globe

"Zero K grapples with the fact our demise is profoundly at odds with this aspect of us that years to exceed every limitation. Circling around this irreconcilable dilemma, DeLillo finds a vital dialogue with his great work White Noise. It is this . . . that makes this book a provocative success."
—Scott Esposito, San Francisco Chronicle

"Anchored in emotions as old and primal as humanity itself: the fear of death, the passionate love of a man for his wife, the conflicted love of a son for his father. These rich veins of feeling flow like an underground river through the novel's eerie, futuristic terrain."
—Kevin Nance, USA Today, 4 Stars

"In Zero K, Don DeLillo has found the perfect physical repository for his oracular visions. . . . His vision is ironic, sere, crackling with static like a horror film."
—Nathaniel Rich, New York Review of Books

"A magnificently edgy and profoundly inquisitive tale."
—Booklist, starred review
We appreciate your continued support!
If you would like to make a donation to help us through CLICK HERE.