This Will All Be Over Soon: A Memoir (Hardcover)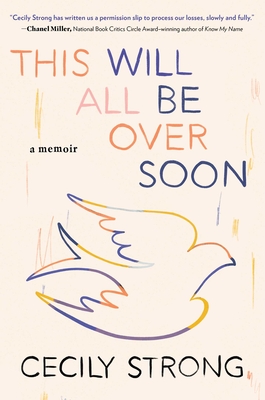 $28.00
This item is not currently available to order.
Staff Reviews
---
Cecily Strong's deeply moving & personal memoir about the death of her cousin and her Covid year is a beautiful read. Fans of her comedy will see another side of Cecily (with a healthy dose of humor, of course).
— Suzanna
Description
---
A powerful memoir from the Saturday Night Live cast member Cecily Strong about grieving the death of her cousin—and embracing the life-affirming lessons he taught her—amid the coronavirus pandemic.

Cecily Strong had a special bond with her cousin Owen. And so she was devastated when, in early 2020, he passed away at age thirty from the brain cancer glioblastoma. Before Strong could attempt to process her grief, another tragedy struck: the coronavirus pandemic. Following a few harrowing weeks in the virus epicenter of New York City, Strong relocated to an isolated house in the woods upstate. Here, trying to make sense of Owen's death and the upended world, she spent much of the ensuing months writing. The result is This Will All Be Over Soon—a raw, unflinching memoir about loss, love, laughter, and hope.

Befitting the time-warped year of 2020, the diary-like approach deftly weaves together the present and the past. Strong chronicles the challenges of beginning a relationship during the pandemic and the fear when her new boyfriend contracts COVID. She describes the pain of losing her friend and longtime Saturday Night Live staff member Hal Willner to the virus. She reflects on formative events from her life, including how her high school expulsion led to her pursuing a career in theater and, years later, landing at SNL.

Yet the heart of the book is Owen. Strong offers a poignant account of her cousin's life, both before and after his diagnosis. Inspired by his unshakable positivity and the valuable lessons he taught her, she has written a book that—as indicated by its title—serves as a moving reminder: whatever challenges life might throw one's way, they will be over soon. And so will life. So make sure to appreciate every day and don't take a second of it for granted.
About the Author
---
Cecily Strong is an actress and comedian best known as standout Saturday Night Live cast member. She has entertained viewers with a variety of beloved SNL characters featured on "Weekend Update," and earned rave reviews for her impressions of Jeanine Pirro, Senator Dianne Feinstein, and Melania Trump. Cecily previously cohosted "Weekend Update" alongside both Seth Meyers and Colin Jost. In 2015, she headlined the White House Correspondents' Association Dinner. She will next star in the Apple TV+ musical comedy series Schmigadoon. She lives and works in New York City.
Praise For…
---
A Summer 2021 Reading Recommendation from Good Morning America, USA Today, The Washington Post, Vanity Fair, Marie Claire, The A.V. Club and Hello Giggles

"Powerful" —Barbara VanDenburgh, USA Today (Summer's Hottest Books)

"Strong's affecting memoir starts when her beloved cousin Owen dies of brain cancer in 2020 — just before the pandemic hits. After she moves to an isolated house upstate and begins keeping a diary, Strong finds Owen's lessons about life bring her newfound strength." —Bethanne Patrick, Washington Post (10 Books to Read in August)

"This Will All Be Over Soon is a touching meditation on life, loss, and love. Thank you for opening your heart to us, Cecily." —Elizabeth Ann Entenman, Hello Giggles (Here Are the 10 Best New Books to Read in August)

"A devastatingly timely memoir." —Rachel Epstein, Marie Claire

"[A] surprisingly fast-paced book that not only reads like a personal diary but is also universal enough in its description of the overwhelming anxiety of dealing with the unknown of a novel, world-changing virus to hit home for a massive amount of readers who have, in the past year and a half, suddenly experienced many of the same emotions. Strong may have originally written This Will All Be Over Soon for herself as a way to grieve and survive, but it ultimately works as a beacon of hope for a brighter future with the people we love. For that reason alone, it's precisely the book we all need right now."—Scott Neumyer, Shondaland

"Earlier this year, we discovered Cecily Strong has impeccable aim when she flung wine over her shoulder and repeatedly splashed Colin Jost on Saturday Night Live, all while singing Frank Sinatra's "My Way" as Jeanine Pirro. But with her new memoir, This Will All Be Over Soon, we learn that the Schmigadoon! star also has a gift for beautiful prose."—Patrick Ryan, USA Today

"Almost more common now than the one-hour stand-up special is the comedian memoir. Or the collection of slight if witty essays or (more rarely) mildly satirical or oddball short stories. The nonfiction often traces the comedian's path to comedy, when it was they first realized they could be funny for a living. Beyond professional obligation or a large advance, there's little sense from the writer that they needed to write the book. That's partly why Cecily Strong's new memoir feels so notable. This Will All Be Over Soon details the Saturday Night Live cast member's grieving of her cousin Owen, who died in early 2020 at age 30 due to cancer. After Owen's death, Strong left New York City—during the pandemic's early surge—and wrote the book in an isolated cabin upstate; its diary-like passages reflect the immediacy of the emotions she conveys." —Laura Adamczyk and Saloni Gajjar, The A.V. Club

"Cecily Strong peels herself open, creates a reality where depression doesn't have to be hidden. She has written us a permission slip to process our losses, slowly and fully. To respect pain and grief as life's companions. To make peace with what's been permanently changed. There's still so much we don't know, but here we are trying. Confronting an ocean's worth of sadness, sip by sip."—Chanel Miller, National Book Critics Circle Award-winning author of Know My Name

"Whether we realize it or not, the ways we intersect with others define our interior lives. It is a gift to all of us that Cecily Strong chose to wonder out loud about the meaning of loss and the hard work of sustaining hope when your world and the world feel most tenuous."—Kelly Corrigan, New York Times bestselling author of Tell Me More and The Middle Place and host of the podcast Kelly Corrigan Wonders

"Honest and heartfelt, Cecily Strong is telling the truth: we have lost too much. This tender book is a call to cherish the people who change us, and the experiences that fill our numbered days with absurdity and wonder." —Kate Bowler, New York Times bestselling author of Everything Happens for a Reason (and other lies I've loved) and host of the podcast Everything Happens with Kate Bowler

"I really liked Cecily Strong before, from her work on SNL. But after reading This Will All Be Over Soon, I want to be president of her fan club. This is a brilliant book: funny, of course—but also poignant, lyrical, searing. Not only is it difficult to put it down; it's impossible to forget."—Darin Strauss, National Book Critics Circle Award-winning author of Half a Life and The Queen of Tuesday

"With wit and heart and honesty and conversational approachability, this book is an intimate portrait of a very funny person's very sad year. Her cousin Owen was a gift to this world, and so is this tribute to him. I laughed and cried, sometimes at the same time. This book is like splitting a bottle of wine and weeping with Cecily Strong, my dream scenario." —Bess Kalb, bestselling author of Nobody Will Tell You This But Me: A true (as told to me) story

"This Will All Be Over Soon is a radically intimate memoir of love and grief, its narrative stitched together from journal entries, personal anecdotes, even text messages. Cecily Strong's comedic impulse comes through in her storytelling, but the heart of this book is her vulnerability and brave willingness to see her life clearly, to speak her own truth, and 'to keep [her] grief as full of love as possible.' As she writes, 'the worst year of your life could turn out to be the best year of your life.' That's something we all need to hear right now."—Maggie Smith, author of Goldenrod and the national bestseller Keep Moving: Notes on Loss, Creativity, and Chang

"Reading Cecily Strong's memoir is like sitting down to coffee with an old friend who has been to hell and back since you've last seen her and yet she can still make you smile through the pain. She welcomes us into her inner thoughts as she grapples with her cousin's loss, her new paramour's COVID plight, and her own anxiety and depression. By letting us into her mind, Cecily has given us a true gift. Access to beauty. Access to humor. Access to what it means to be human. This memoir in its self-aware storytelling format is just so perfect for this time, this period of uncertainty personally and globally, and how one warrior woman copes—or doesn't. Like the rest of us."—Zibby Owens, creator and host of the podcast Moms Don't Have Time to Read Books and editor of Moms Don't Have Time To: A Quarantine Anthology