Cloud Cuckoo Land: A Novel (Hardcover)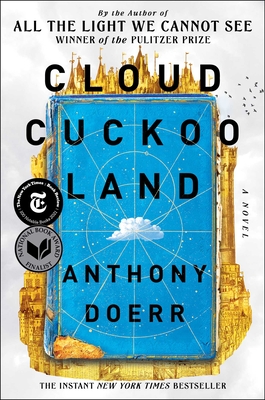 Staff Reviews
---
This luscious epic weaves together the stories of young outsiders whose lives are all tied together through an ancient, decaying book. The book is a comic masterpiece, a Fools's Journey, that is discovered in Constantinople just as the city falls in 1453 then lost, and found, and lost again. It is still playing a part in people's lives in 2150, but all the stories collide on February 20, 2020. This book has it all. Doerr's imagination is matched only by his writing ability. Prepare to surrender because there is no escaping once you begin.
— Lisa
CLOUD CUCKOO LAND takes us on a dazzlingly epic journey between 1453 Constantinople, modern-day Idaho, and an interstellar ship in the future. Omeir, Anna, Seymour, Zeno, and Konstance are desperate to find meaning in their lives, guided by the same ancient text. Doerr runs a golden thread through these stories separated by time and space to illustrate universally felt complications of the human heart, and our common longing for companionship. I love this book!
— Sarah
October 2021 Indie Next List
---
"I haven't felt this hopeful after closing a book in a very long time. What does it mean to be alive? An ageless question, yet throughout time the answer is always human connection and the stories we tell to live, thrive, survive."
— Julie Slavinsky, Warwick's, La Jolla, CA
Description
---
Finalist for the 2021 National Book Award, longlisted for the 2022 Andrew Carnegie Medal, and the instant New York Times bestseller!

From the Pulitzer Prize–winning author of All the Light We Cannot See, perhaps the most bestselling and beloved literary fiction of our time, comes the highly anticipated Cloud Cuckoo Land.

Set in Constantinople in the fifteenth century, in a small town in present-day Idaho, and on an interstellar ship decades from now, Anthony Doerr's gorgeous third novel is a triumph of imagination and compassion, a soaring story about children on the cusp of adulthood in worlds in peril, who find resilience, hope—and a book. In Cloud Cuckoo Land, Doerr has created a magnificent tapestry of times and places that reflects our vast interconnectedness—with other species, with each other, with those who lived before us, and with those who will be here after we're gone.

Thirteen-year-old Anna, an orphan, lives inside the formidable walls of Constantinople in a house of women who make their living embroidering the robes of priests. Restless, insatiably curious, Anna learns to read, and in this ancient city, famous for its libraries, she finds a book, the story of Aethon, who longs to be turned into a bird so that he can fly to a utopian paradise in the sky. This she reads to her ailing sister as the walls of the only place she has known are bombarded in the great siege of Constantinople. Outside the walls is Omeir, a village boy, miles from home, conscripted with his beloved oxen into the invading army. His path and Anna's will cross.

Five hundred years later, in a library in Idaho, octogenarian Zeno, who learned Greek as a prisoner of war, rehearses five children in a play adaptation of Aethon's story, preserved against all odds through centuries. Tucked among the library shelves is a bomb, planted by a troubled, idealistic teenager, Seymour. This is another siege. And in a not-so-distant future, on the interstellar ship Argos, Konstance is alone in a vault, copying on scraps of sacking the story of Aethon, told to her by her father. She has never set foot on our planet.

Like Marie-Laure and Werner in All the Light We Cannot See, Anna, Omeir, Seymour, Zeno, and Konstance are dreamers and outsiders who find resourcefulness and hope in the midst of gravest danger. Their lives are gloriously intertwined. Doerr's dazzling imagination transports us to worlds so dramatic and immersive that we forget, for a time, our own. Dedicated to "the librarians then, now, and in the years to come," Cloud Cuckoo Land is a beautiful and redemptive novel about stewardship—of the book, of the Earth, of the human heart.
About the Author
---
Anthony Doerr is the author of All the Light We Cannot See, winner of the Pulitzer Prize, the Carnegie Medal, the Alex Award, and a #1 New York Times bestseller. He is also the author of the story collections Memory Wall and The Shell Collector, the novel About Grace, and the memoir Four Seasons in Rome. He has won five O. Henry Prizes, the Rome Prize, the New York Public Library's Young Lions Award, the National Magazine Award for fiction, a Guggenheim Fellowship, and the Story Prize. Born and raised in Cleveland, Ohio, Doerr lives in Boise, Idaho, with his wife and two sons.

Praise For…
---
Praise for Anthony Doerr and CLOUD CUCKOO LAND

*FINALIST FOR THE NATIONAL BOOK AWARD FOR FICTION*

A Most Anticipated Pick by the New York Times, Washington Post, Los Angeles Times, San Francisco Chronicle, Time, Entertainment Weekly, People, Parade, USA Today, Thrillist, Minneapolis Star-Tribune, NPR.org, Buzzfeed, Good Morning America, CNN.com, EOnline, PopSugar, Country Living, The Guardian, Christian Science Monitor, The Week, Bustle, HeyAlma, St. Louis Post-Dispatch, Fortune, BookRiot, LitHub, Good Housekeeping, The Millions, B&N Reads, AARP, Chicago Tribune


""Whether in the form of ink on a printed page, pixels on a screen, or in some medium we have yet to imagine, the task of preserving books is among the most noble in humanity's history. Anthony Doerr has paid that task a worthy homage."
—Book Reporter

"If you're looking for a superb novel, look no further."
—Bethanne Patrick, Washington Post

"In Cloud Cuckoo Land, [Doerr] writes a marvel of a story himself, filled with gorgeous language and distinctive characters. He sweeps readers in and gives us the enveloping experience of living in another world. . . . [A] great novel."
—Maureen Corrigan, Wall Street Journal

"[Cloud Cuckoo Land is] a wildly inventive novel that teems with life, straddles an enormous range of experience and learning, and embodies the storytelling gifts that it celebrates. . . . A humane and uplifting book for adults that's infused with the magic of childhood reading experiences."
—Marcel Theroux, New York Times Book Review

"Anthony Doerr is not just a master of storytelling. He is, arguably, a magician. . . . There's no need to dream of a beautiful land, up above the clouds, to escape 2021 for a few hours. Anthony Doerr's magic, captured in the pages of this thrilling, lovely, deeply satisfying book, will take you there."
—Gail Pennington, St. Louis Post-Dispatch

"Of all our contemporary fiction writers, Anthony Doerr is the one whose novels seem to be the purest response to the primal request: tell me a story. . . . [Cloud Cuckoo Land] transports us far above the stars, and down into the mud. It dazzles, and disturbs. And I for one wanted Doerr's vast and overwhelming story to last much, much longer."
—Maureen Corrigan, Fresh Air

"Sprawling and ambitious and imaginative. . . . [Doerr] is a writer with the rare ability to achieve the universal and the specific simultaneously. His stories, both vast and intimate, are dazzling, sometimes dizzying in their scope. . . . [Cloud Cuckoo Land] is unlike anything you've ever read."
—Samantha Schoech, San Francisco Chronicle

"The greatest joy in [Cloud Cuckoo Land] comes from watching the pieces snap into place. It is an epic of the quietest kind, whispering across 600 years in a voice no louder than a librarian's."
—Jason Sheehan, NPR.org

"A seamless tapestry . . . . Ultimately, Doerr seeks to remind us of the many ways we are tied to the natural world."
—Bethanne Patrick, Los Angeles Times

"A trip well worth taking with the inimitable Doerr."
—Rob Merrill, Associated Press

"Packed with lush details and a gripping narrative."
—Keziah Weir, Vanity Fair

"Cloud Cuckoo Land is bound to leave as indelible a mark on readers as All the Light We Cannot See."
—Alessia Santoro, PopSugar

"Doerr's creation lifts off quickly, soars, and then, like the various wildfowl wheeling through the story, lands with practiced finesse. . . . Fueled by deep imagination and insistent compassion, Doerr weaves together his storylines with brisk pacing that never feels rushed."
—Erin Douglass, Christian Science Monitor

"The novel is a celebration of the way in which books enable us to connect with the past – and a warning about how fragile their survival has always been in a world in which those in power pursue war or harm the environment."
—Jake Kerridge, The Daily Express

"This engagingly written, big-hearted book is a must-read – immersive popular fiction that breaks boundaries and makes you look at the world a bit differently."
—Jake Kerridge, The Daily Mirror

"A paean to stories as a source of sustenance and solace, and to the sweetness of our shared terrestrial home, Doerr's narrative is buoyant with humanity and its author's palpable pleasure in invention."
—Stephanie Cross, The Daily Mail

"Cloud Cuckoo Land is an impressive achievement and a joy to read. Serious novels are rarely this fun. In a world where nature and stories are more precious than ever, this fine book is an education, a comfort, and inspiration."
—Melissa Katsoulis, The Times (UK)

"There is a kind of book a seasoned writer produces after a big success: large-hearted, wide in scope and joyous. Following his Pulitzer winner All the Light We Cannot See, Anthony Doerr's Cloud Cuckoo Land is a deep lungful of fresh air–and a gift of a novel."
—Elizabeth Knox, The Guardian

"In a big fiction year . . . Cloud Cuckoo Land stands out. . . . Doerr's characters are astoundingly resilient, suggesting that we may yet save ourselves, with literature an essential tool."
—Hamilton Cain, Boston Globe

"A magical (and hopeful) tale of humanity."
—People

"Ambitious and complex . . . . [Doerr] weaves it all together beautifully."
—Angela Haupt, Washington Post

"A tour de force of a novel . . . recalling Jorge Luis Borges, Umberto Eco, and Ursula K. LeGuin. . . . A literary salon to which all manner of storytellers and readers are invited."
—Jenny McPhee, AirMail Weekly

"For his next act, Anthony Doerr wrote a book about everything."
—New York Times

"Epic and profound."
—Claire Martin, People Magazine

"Stunning . . . deeply imagined . . . a novel about how people find hope in the midst of chaos and fear, and how books themselves might be the best things humans have ever done."
—Samantha Schoech, San Francisco Chronicle

"As intimate as a bedtime story, a love letter to libraries and bibliophiles."
—O Magazine

"Anthony Doerr's talent for deftly weaving the criss-crossed stories of adults and children will tug at your heartstrings and remind you of the power of resilience and hope."
—Ashley Leath, Country Living

"A dazzling epic of love, war, and the joy of books."
—The Guardian

"A sweeping epic."
—K.W. Colyard, Bustle

"[An] ambitious, genre-busting novel."
—Sarah McCraw Crow, BookPage (starred review)

"A novel of epic stature and ambition."
—Emerson Malone, Buzzfeed

"[In Cloud Cuckoo Land, Anthony Doerr] takes his talents to the epic."
—Seija Rankin, Entertainment Weekly

"Worth the seven-year wait. . . . Will leave you in awe."
—Tierney Bricker, EOnline

"I don't have much in the way of life advice to offer anyone, but I'd say that when you have a chance to read a book that's supposed to weave together stories from the 1453 siege of Constantinople, an elementary school play targeted by teenage ecoterrorists, and a 14-year-old girl aboard a generation ship headed for a new Earth, all revolving around a long-lost book from ancient Greece and the stories it contains, you put that right on top of your 'To Be Read' pile immediately. The fact that it's coming from Anthony Doerr, who won the 2015 Pulitzer Prize for Fiction? That's just gravy."
—Jason Sheehan, NPR.org

"[An] imaginative, time-bending tale."
—Lesley Kennedy, CNN.com

"Sweeping and atmospheric."
—Time

"A poignant story told with heart and wit, . . . [with] short, lively chapters [that] move at a lively clip."
—Kristyn Kusek Lewis, Real Simple

"[A] sweeping literary fiction novel exploring past, present, and future through the lives of young people on the cusp of adulthood. . . . This is a novel unlike any other."
—Rachel Brittain, BookRiot

"[An] intricately braided story . . . [and] a stunning, mind-bending tale of survival and how closely we're all connected."
—Lizz Schumer, Good Housekeeping

"[Cloud Cuckoo Land] is as extreme a departure as they come, but so original you won't care."
—Los Angeles Times

"A welcome read that is a celebration of both resilience and hope told from the perspective of children set worlds (and times) apart. An unforgettable epic from a master storyteller at the top of his craft."
—B&N Reads

"Doerr's first book since his Pulitzer Prize-winning All the Light We Cannot See and even grander in conception and delivery . . . . [Cloud Cuckoo Land] is a glorious golden mesh of stories that limns the transformative power of literature and our need to both dream big and arrive back home in a world that will eventually flow on without us. Highly recommended."
—Library Journal, starred review

"Doerr builds a community of readers and nature lovers that transcends the boundaries of time and space ... This is just one of the many narrative miracles worked by the author as he brings a first-century story to its conclusion in 2146. As the pieces of this magical literary puzzle snap together, a flicker of hope is sparked for our benighted world."
—Kirkus, starred review

"Doerr demonstrates a singular gift for bringing these complex, fully realized characters to empathetic life in this brilliantly imagined story, which moves backward and forward in time ... One of the joys of reading Cloud Cuckoo Land is discovering the threads that link the five characters' lives, which ultimately cohere in ways that are simply unforgettable, as is this amazing gift of a novel."
—Booklist, starred review

"Doerr returns with a deeply affecting epic. . . . [Cloud Cuckoo Land] is a marvel."
—Publishers Weekly, starred revie