How to Slowly Kill Yourself and Others in America: Essays (Paperback)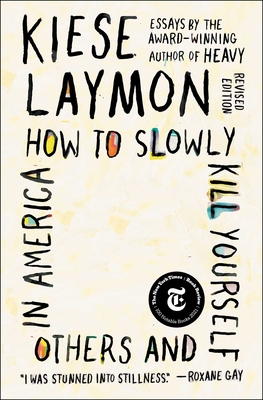 Description
---
A revised collection with thirteen essays, including six new to this edition and seven from the original edition, by the "star in the American literary firmament, with a voice that is courageous, honest, loving, and singularly beautiful" (NPR).

Brilliant and uncompromising, piercing and funny, How to Slowly Kill Yourself and Others in America is essential reading. This new edition of award-winning author Kiese Laymon's first work of nonfiction looks inward, drawing heavily on the author and his family's experiences, while simultaneously examining the world—Mississippi, the South, the United States—that has shaped their lives. With subjects that range from an interview with his mother to reflections on Ole Miss football, Outkast, and the labor of Black women, these thirteen insightful essays highlight Laymon's profound love of language and his artful rendering of experience, trumpeting why he is "simply one of the most talented writers in America" (New York magazine).
About the Author
---
Born and raised in Jackson, Mississippi, Kiese Laymon, Ottilie Schillig Professor in English and Creative Writing and the University of Mississippi, is the author of the novel Long Division, the memoir Heavy, and the essay collection How to Slowly Kill Yourself and Others in America.
Praise For…
---
"Laymon writes that it took courage for him to face himself, the truth of who he is, who he was. Necessary steps to get to the man he wants to be. The same can be said of the nation, he writes. It takes courage to face things down, call them out and then to act on them. It takes fearless revision."
—Atlanta Journal-Constitution

"[A] profound work… Laymon brings vulnerability to each page, whether talking about the influence of OutKast and Southern hip-hop on his life, being told that he's not like other Black people, or battling personal demons on the path to becoming a published writer… Moving and meditative, this reckoning on Blackness, manhood, and self adds to Laymon's legacy as an influential writer."
—Library Journal, starred review

"Gracefully encompassing pain and power and so much in between, Laymon's artfully piercing essays share truth without limit, and could not feel more timely."
—Booklist, starred review

"Revised and expanded from its original publication in 2013, this collection of forthright, spirited essays (six are new) moves back and forth among Jackson, Mississippi, where Laymon was born and grew up ... A timely and disquieting contribution to urgent conversations about race."
—Kirkus

"While you might successfully read every page in one sitting (and you'll want to), it will take days to fully absorb their richness. When you read Laymon's writing, you are engaging in a conversation that takes place both on and off the page. This is a book you will find yourself revisiting and discussing, with yourself and others, over and over."
—Southern Review of Books

"I first encountered Kiese Laymon's writing when I read How to Slowly Kill Yourself and Others in America. I was stunned into stillness."
—Roxane Gay, author of Bad Feminist
We appreciate your continued support!
If you would like to make a donation to help us through CLICK HERE.