To Fall in Love, Drink This: A Wine Writer's Memoir (Paperback)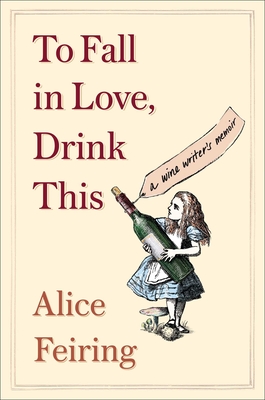 Staff Reviews
---
An inspiring read for those interested in natural wines and for wine lovers in general, and a memoir with some unexpected twists and turns. Very entertaining!
— Patty
Description
---
From veteran wine writer and James Beard Award winner Alice Feiring, an insightful and entertaining memoir of wine, love, heartbreak, and the never-ending process of coming-of-age.

Called everything from the Patti Smith to the Ruth Bader Ginsburg of natural wines, Alice Feiring is a special sort of wine writer—the kind who dares to disagree with wine "experts," and who believes wholeheartedly that the best wine writing is about life.

To Fall in Love, Drink This is both a love letter to wine and a lifelong coming-of-age story. In a series of candid, wise, and humorous personal essays, Feiring serves up a memoir in vignettes. She tells the story of her parents' divorce, her first big wine assignment, the end of an eleven-year relationship, the death of her father, a near-fatal brush with a serial killer, pandemic lockdown, and more—and suffuses each with love, romance, pain, joy, and wine. Each essay is "accompanied" by a no-nonsense wine take-away designed to answer the questions everyday wine lovers have about wine—age, price, grapes, vineyards, and vintners.

This frank, charismatic work is a refreshingly grounded addition to the popular—and notoriously stuffy—genre of wine-writing. Feiring has crafted a timeless, positively unpretentious memoir that will appeal to everyone who has ever enjoyed a glass of wine.
About the Author
---
Journalist and essayist Alice Feiring was proclaimed "the queen of natural wines" by the Financial Times. Feiring is a recipient of a coveted James Beard Award for wine journalism, among many other awards. She has written for newspapers and magazines including The New York Times, New York magazine, Time, AFAR, World of Fine Wine, and the beloved winezine, Noble Rot. She has also appeared frequently on public radio. Her previous books include Natural Wine for the People, Dirty Guide to Wine, For the Love of Wine, Naked Wine: Letting Grapes Do What Comes Naturally, and her controversial 2008 debut, The Battle for Wine & Love or How I Saved the World from Parkerization. Alice lives in New York and publishes the authoritative natural wine newsletter, The Feiring Line. Visit her online at TheFeiringLine.com.
Praise For…
---
"Powerful, compelling... her deft prose delivers the reader directly into the emotional impact of her remembrances... humor and humanity reverberate through every anecdote, driven by Feiring's curiosity not just about the wines of the world but about its people."
—Wine & Spirits

"Showcases her singular take on wine and her similarly distinctive take on life. It's Alice assoluta: reverent, irreverent, erudite, effervescent and romantic through and through."
—Frank Bruni

"A full-bodied and bighearted work that's sure to intoxicate wine aficionados and revelers alike."
—Publishers Weekly

"A zesty memoir... Feiring creates warm portraits of wine growers and producers, steeps readers in the terroir of different regions, and, with great delight, sings the praises of natural wines... An enjoyable quaff."
—Kirkus Reviews

"Offers glimpses of the ebullience, the fear, and the beauty that Feiring discovers as she pursues her desires and is pursued by them, with moments of great beauty and profundity... an entertaining and engaging story about grapes and growth."
—Library Journal

"Readers traveling with Feiring will discover a vast inventory of wines, many new and obscure and worth seeking out."
—Booklist

"Humor and humanity reverberate through every anecdote, driven by Feiring's curiosity not just about the wines of the world but about its people."
—Wine & Spirits Magazine

"Compulsively readable."
—Club Oenologique

"Alice Feiring's most powerful work to date. Her intelligent, forceful voice takes readers to the heart and the soul, of both humanity and wines."
—Pascaline Lepeltier, Meilleurs Ouvriers de France

"A book of the highest order, written with verve and wit and a novelist's feel for storytelling, that pretends to be all about wine. It is also about humanity, and the earth, and the fragility of the soul. Flat-out wonderful."
—Bill Buford, bestselling author of Heat and Dirt

"Alice Feiring is the rare wine expert whose decades of experience and technical knowledge have not curtailed her genuine wonder at wine's power to connect us—not just to others, but to ourselves. Her transporting memoir is Feiring's proof that there is indeed magic to be found in a good glass of wine."
—Talia Baiocchi, editor-in-chief of PUNCH

"Alice's adventures through the drinking glass are enlightening, amusing, and at times, startling. Her engaging memoir explains how she became one of the leading proponents of natural wine, her passion awakened by tasting her way around the world, one glass at a time. I alternated between devouring her captivating stories and taking notes of wines she recommends that are sprinkled through this book. To Fall in Love, Drink This tells of how Alice fell in love with wine, and you will too when you read it."
—David Lebovitz, author of Drinking French