The Power of Geography: Ten Maps That Reveal the Future of Our World (Politics of Place #4) (Hardcover)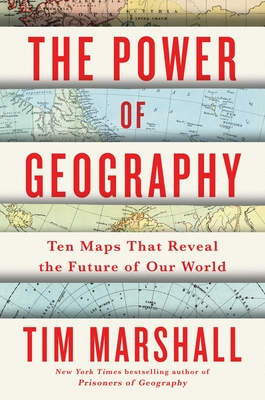 Other Books in Series
This is book number 4 in the Politics of Place series.
Description
---
From the author of the New York Times bestseller Prisoners of Geography, the highly anticipated follow-up that uses ten maps of crucial regions around the globe to explain the geopolitical strategies of today's world powers and what it means for our future.

Tim Marshall's global bestseller Prisoners of Geography offered us a "fresh way of looking at maps" (The New York Times Book Review), showing how every nation's choices are limited by mountains, rivers, seas and concrete. Since then, the geography hasn't changed, but the world has.

Now, in this revelatory new book, Marshall takes us into ten regions that are set to shape global politics and power. Find out why the Earth's atmosphere is the world's next battleground; why the fight for the Pacific is just beginning; and why Europe's next refugee crisis is closer than we think.

In ten chapters covering Australia, The Sahel, Greece, Turkey, the UK, Iran, Ethiopia, Saudi Arabia, Spain and Space, Marshall explains how a region's geography and physical characteristics affect the decisions made by its leaders. Innovative, compelling, and delivered with Marshall's trademark wit and insight, this is a gripping and enlightening exploration of the power of geography to shape humanity's past, present, and—most importantly—our future.
About the Author
---
Tim Marshall is a leading authority on foreign affairs with more than thirty years of reporting experience. He was diplomatic editor at Sky News and before that worked for the BBC and LBC/IRN radio. He has reported from forty countries and covered conflicts in Croatia, Bosnia, Macedonia, Kosovo, Afghanistan, Iraq, Lebanon, Syria, and Israel. He is the author of Prisoners of Geography: Ten Maps That Explain Everything About the World; The Age of Walls: How Barriers Between Nations Are Changing Our World; and A Flag Worth Dying For: The Power and Politics of National Symbols. He is founder and editor of the current affairs site TheWhatandtheWhy.com.
Praise For…
---
"Fascinating reading . . . a wonderfully entertaining and lucid account, written with wit, pace and clarity. I can't imagine reading a better book this year." —Mirror (UK)

"Refreshing and very useful. . . . Marshall is right to urge us to keep the land and seas in mind even in a world of cyberconflict and frictionless flows of capital." —Washington Post

"An insightful and comprehensive (but digestible) overview of the key regions whose trajectory will shape global politics." —Globe and Mail

"Marshall's books are excellent for anyone who takes satisfaction in understanding the world and who harbours a fascination for the shifting alliances. . . . Each segment of The Power of Geography is accessible, although by no means simple. Marshall covers much ground, moving smoothly through each nation's background, current struggles and options for the future. . . . A sharp and concise evaluation of today's geopolitics." —Geographical (UK)

"Mountains, deserts, and distances still leave a deep mark on national character and international relations, according to this fascinating exploration of geopolitics. . . . Marshall offers an immersive blend of history, economics, and political analysis that puts geography at the center of human affairs." —Publishers Weekly

"Marshall has decades of experience as a foreign correspondent, and his writing is clear and concise and sprinkled with wry observations. His ten maps mentioned in the subtitle offer readers fresh perspectives." —Booklist (starred review)

"An elucidating survey of 10 regions whose demographics, economics, and politics will affect the future of the planet. . . . Geopolitics wonks will find Marshall's prognostications to be reasonable, believable, and capably rendered." —Kirkus Reviews

"Another outstanding guide to the modern world. Marshall is a master at explaining what you need to know and why." —Peter Frankopan, professor of global history at Oxford University and author of The Silk Roads: A New History of the World

"An urgent and accessible study of the forces shaping our future." —Ed Husain, author of The House of Islam

"A skilful navigation of the regions that could define geopolitics for future generations. One to read to stay ahead of the game." —Dharshini David, author of The Almighty Dollar