Keya Das's Second Act (Hardcover)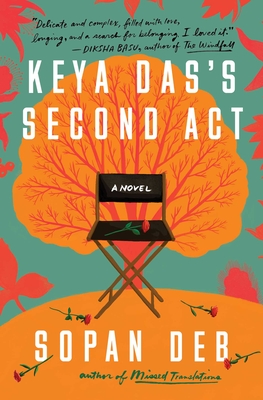 $26.00

Available in our Warehouse: Usually Ships in 3-8 Days
Staff Reviews
---
I read this start to finish in one sitting - something I haven't done in years! Sopan Deb's debut novel is so full of heart and healing - it's exactly what we need right now. Beautiful!
— Suzanna
Description
---
A poignant, heartwarming, and charmingly funny debut novel about how a discovered box in the attic leads one Bengali American family down a path toward understanding the importance of family, even when splintered.

Shantanu Das is living in the shadows of his past. In his fifties, he finds himself isolated from his traditional Bengali community after a devastating divorce from his wife, Chaitali; he hasn't spoken to his eldest daughter Mitali in months; and most painfully, he lives each day with the regret that he didn't accept his teenaged daughter Keya after she came out as gay. As the anniversary of Keya's death approaches, Shantanu wakes up one morning utterly alone in his suburban New Jersey home and realizes it's finally time to move on.

This is when Shantanu discovers a tucked-away box in the attic that could change everything. He calls Mitali and pleads with her to come home. She does so out of pity, not realizing that her life is about to shift.

Inside the box is an unfinished manuscript that Keya and her girlfriend were writing. It's a surprising discovery that brings Keya to life briefly. But Neesh Desai, a new love interest for Mitali with regrets of his own, comes up with a wild idea, one that would give Keya more permanence: what if they are to stage the play? It could be an homage to Keya's memory, and a way to make amends. But first, the Dases need to convince Pamela Moore, Keya's girlfriend, to give her blessing. And they have to overcome ghosts from the past they haven't met yet.

A story of redemption and righting the wrongs of the past, Keya Das's Second Act is a warmly drawn homage to family, creativity, and second chances. Set in the vibrant world of Bengalis in the New Jersey suburbs, this debut novel is both poignant and, at times, a surprising hilarious testament to the unexpected ways we build family and find love, old and new.
About the Author
---
Sopan Deb is a writer for The New York Times, where his topics have included sports and culture. He is also the author of the memoir Missed Translations: Meeting the Immigrant Parents Who Raised Me. Before joining the Times, Deb was one of a handful of reporters who covered Donald Trump's 2016 presidential campaign from start to finish as a campaign embed for CBS News. He was named a "breakout media star" of the election by Politico. At The New York Times, Deb has interviewed high profile subjects such as Denzel Washington, Stephen Colbert, the cast of Arrested Development, Kyrie Irving, and Bill Murray. He lives in Washington, DC, with his wife and dog.
Praise For…
---
"A perfect summer book for anyone who loves a family story that's not neat or tidy, but makes space for all the complicated feelings that accompany grief." —BUZZFEED

"Full of regret, mistakes, love, redemption, and second chances, New York Times reporter Deb's (Missed Translations, 2020) first novel is a painfully beautiful story that gives hope to all who have lost a loved one and wished for a second act of their own." —BOOKLIST

"This book blew me away. Sopan crafts beautifully authentic characters whose experiences with tragedy, loneliness, love, and longing are as intimate as they are gripping. A must read!"—Kal Penn, author of You Can't Be Serious

"A delightful novel. Like life itself, Keya Das's Second Act is delicate and complex, filled with love, longing, and a search for belonging. I loved it."—DIKSHA BASU, author of The Windfall and Destination Wedding

"Sopan Deb's Keya Das's Second Act is full of heart. It's a sincere reflection on love, grief, forgiveness, blood family, and chosen family. This is a novel of real tragedy, but it's also imbued with a persistent hope. What begins as a story of regret becomes one of faith in other people, and in narrative itself. The book ultimately takes joy in the many ways we reinvent ourselves — a self destructive drummer becomes a devoted boyfriend; a cold father takes up therapy and improv; and a community tries to move forward." —SANJENA SATHIAN, author of Gold Diggers