The Swallows: A Novel (Hardcover)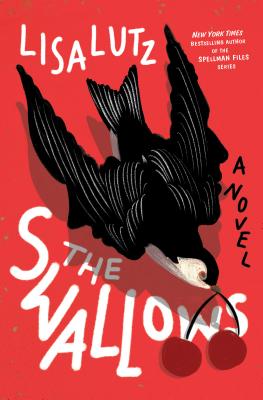 $27.00
This item is not currently available to order.
Staff Reviews
---
This twisted story of a boarding school where things are not as they seem is a total pageturner! Lisa Lutz has done it again.
— Suzanna
August 2019 Indie Next List
---
"Stonebridge Academy, a private prep school of about 400 students located on 50 acres of dense woods, was to be the setting for Alex Witt's second try at being an instructor. Her first ended with a memory that made her skin crawl. Unfortunately, her time at Stonebridge would prove to be even more disturbing. Remember the age-old adage, 'Boys will be boys'? With The Swallows, we have a new adage: 'Girls will be tougher than boys.' This is a powerfully serious yet humorous look at the battle between the sexes and a timely and important book for all readers."
— Karen R. Briggs, The Booknook, East Tawas, MI
Description
---
A teacher at a New England prep school ignites a gender war—with deadly consequences—in this dark and provocative novel by the bestselling author of The Passenger
 
"Riveting . . . full of imagination and power."—Caroline Kepnes, author of You and Providence

NAMED ONE OF THE BEST BOOKS OF THE YEAR BY NEW YORK • WINNER OF THE ALA'S ALEX AWARD

When Alexandra Witt joins the faculty at Stonebridge Academy, she's hoping to put a painful past behind her. Then one of her creative writing assignments generates some disturbing responses from students. Before long, Alex is immersed in an investigation of the students atop the school's social hierarchy—and their connection to something called the Darkroom. She soon inspires the girls who've started to question the school's "boys will be boys" attitude and incites a resistance. But just as the movement is gaining momentum, Alex attracts the attention of an unknown enemy who knows a little too much about her—and what brought her to Stonebridge in the first place.

Meanwhile, Gemma, a defiant senior, has been plotting her attack for years, waiting for the right moment. Shy loner Norman hates his role in the Darkroom, but can't find the courage to fight back until he makes an unlikely alliance. And then there's Finn Ford, an English teacher with a shady reputation, who keeps one eye on his literary ambitions and one on Ms. Witt. As the school's secrets begin to trickle out, a boys-versus-girls skirmish turns into an all-out war, with deeply personal—and potentially fatal—consequences for everyone involved.

Lisa Lutz's blistering, timely tale of revenge and disruption shows us what can happen when silence wins out over decency for too long—and why the scariest threat of all might be the idea that sooner or later, girls will be girls.

Praise for The Swallows

"The Swallows is fast-moving, darkly humorous and at times shockingly vicious. The battle of the sexes within its pages couldn't be more compelling. . . . Lutz delivers a frantic, morbidly funny story."—BookPage

"A decade before the #MeToo movement kicks off in full force, women are coming for the patriarchy in this big ol' novel, ripe with idiosyncratic characterization and memorable scenes."—Refinery29
About the Author
---
Lisa Lutz is the New York Times bestselling, Alex Award–winning author of the Spellman Files series, as well as the novels Heads You Lose (with David Hayward), How to Start a Fire, and The Passenger. She has also written for film and TV, including HBO's The Deuce. She lives part-time in New York's Hudson Valley.
Praise For…
---
"In her witty and charming style, Lutz offers a genre-busting work of fiction that will satisfy readers looking for a seriously engaging read. The story itself is disturbingly plausible, and the humanly flawed characters make choices, good and bad, based on their backgrounds, all blending smoothly into a darkly comedic mystery. . . . This novel keeps readers on the edge of their seats while opening a conversation about public shaming, economic privilege, gender inequity, and revenge versus justice."—Booklist (starred review) 

"It's the era of #MeToo, and literature is beginning to reflect that in a big way. In Lisa Lutz's The Swallows, a prep school teacher ignites a gender war when she begins the question the institution's overpowering 'boys will be boys' mentality. She soon learns that starting a revolution and threatening the status quo comes with steep consequences."—Bustle

"A new teacher at a ritzy New England prep school ignites a fierce battle between the male and female students that ends with revenge, threats, and a fatality. So, just another average day in high school . . . just kidding."—PopSugar

"The latest campus novel teetering between thriller and satire, Lutz's book throws readers into the drama of a New England prep school, where one inscrutable new teacher brings about ideas that ignite a deadly gender-war."—Entertainment Weekly

 "Liza Lutz is a treasure. Her Spellman Files series manages to be both charming and shrewd, and The Swallows promises to follow suit—it looks witty and caustic, winsome and clever. It's also, and this is a classic Lutz move, a fresh, unique spin on a genre that already has been reworked a million times. . . . Lutz, searing as ever . . . illuminate[s] how various institutions excuse the oppression or silencing of women and girls."—CrimeReads

"[Lutz] takes no prisoners. . . . She builds her plot cannily and walks a neat line between satire and realism [in a] withering portrayal of how the #MeToo movement plays out in this rarefied setting."—Publishers Weekly

"Lutz draws on the droll humor and idiosyncratic characterizations that make her Spellman novels so appealing. . . . An offbeat, darkly witty pre-#MeToo revenge tale. The patriarchy doesn't stand a chance."—Kirkus Reviews

"With a memorable cast of characters and more than a few secrets, Lutz's latest is a turbocharged tale for our times."—Newsweek

"Extraordinarily fun and blood pressure-raising . . .  The Swallows goes surprising places (axes are employed) and isn't afraid to let everyone roll around in the muck—though some characters come out smelling sweeter than others."—Vulture

"Wes Anderson meets Muriel Spark in this delicius and vicious bayyle of the sexes set within a private school. Wickedly fun and wildly subversive but packing an emotional punch, The Swallows is as powerful as it is timely."—Nationally bestselling author Megan Abbott

"Sharpen your axes, ladies, and get ready for this fierce, fun, unsparing novel of female rage, power, and friendship."—Camille Perri, author of The Assistants and When Katie Met Cassidy

"I devoured The Swallows. You'll laugh out loud even as you anxiously flip the pages."—New York Times bestselling author Tess Gerritsen