A Year at Catbird Cottage: Recipes for a Nourished Life [A Cookbook] (Hardcover)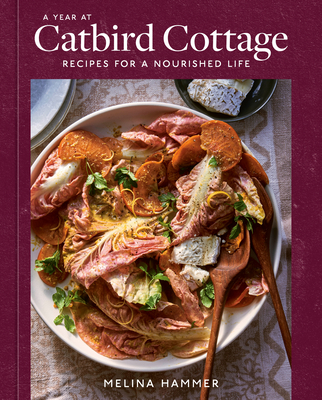 Description
---
100 recipes for seasonal, locally sourced, and foraged dishes from the owner of the idyllic Catbird Cottage B&B in upstate New York.
 
"Melina Hammer shows us that there is beauty all around us when we cook seasonally. . . . A joyful, inspiring book for cooks, bakers, artists, and dreamers."—Amanda Hesser, founder and CEO, Food52

ONE OF FOOD52'S MOST ANTICIPATED COOKBOOKS OF 2022

At the foot of the Shawangunk Mountain Ridge lies the hamlet of Accord, New York, dotted with orchards and farms, population 562. There, Melina Hammer welcomes guests from near and far to stay and eat at Catbird Cottage, a B&B run out of her charming home. Her eclectic table is set with meals that showcase stories and ingredients from her own garden, New York's wild landscape, and her travels around the globe.
 
In her debut cookbook, Melina shares the beloved recipes from this special place, all presented seasonally just like the meals at Catbird Cottage. These recipes are organized by season, since the seasons dictate what's on the Catbird Cottage table. Whether it's Wild Salmon Gravlax, Scallop-Shiso Ceviche, Buttery Scrambled Eggs and Chanterelles, Sour Cherry Pie, or a fall-apart persimmon served with triple-cream cheese and freshly baked sourdough bread, Melina's food is deeply satisfying and sustaining—and emphasizes cooking and living in a more connected and joyful way.
 
Melina also shares her foraging and preserving know-how, allowing readers to stock their pantries, cupboards, and freezers. But these recipes don't require you be a fully-fledged homesteader, expert forager, or connoisseur of global flavor. The book takes the foundations of these sustainable practices and integrates them into an accessible kitchen vernacular of complete nourishment. The food of Catbird Cottage is community on a plate—grown, harvested, persevered, and presented with love—and shared with cherished companions.
About the Author
---
Owner of Catbird Cottage in the Hudson Valley, New York, Melina Hammer and her husband, Jim, host travelers who have made their cozy cottage the place to celebrate their most special moments. For nearly two decades, Melina has also been an expert recipe developer, food stylist, and food photographer and a regular contributor to the New York Times, Cooking Light, EatingWell, Edible, and Row 7 Seeds. She is a Food52 resident and bestselling author. Melina won an IACP award for best food styling and was nominated as an IACP finalist for her Instagram.
Praise For…
---
"A Year at Catbird Cottage makes a strong argument for strengthening our connection to nature through what we cook. From sourdough to stocks, foraging to fermentation, Melina's seasonal, ingredient-driven recipes are flavor-packed and beautiful. Her love for the bounty of the natural world is infectious."—Heidi Swanson, author of Super Natural Simple

"Spending time in these pages makes me want to spend more time in nature. A Year at Catbird Cottage reminds us to look closely at everything around us and to see beauty and possibility in every corner. This is how Melina Hammer not only approaches cooking food, but also how she approaches growing it, foraging for it, and capturing it through her stunning photography."—Julia Turshen, bestselling author of Simply Julia and host/producer of Keep Calm & Cook On Podcast

"With A Year at Catbird Cottage, Melina does so much more than welcome us into her kitchen; she invites us out into her garden, seduces us to forage with her the neighboring woods, shows us how to preserve all manner of edibles, and plies us with some of the most enticing recipes I've seen in ages. Her lusciously styled photos and equally evocative prose will leave you torn—do you grab this book and start cooking immediately or do you find a quiet spot to hunker down and get lost in the magical world she's created? Either way is a total win."—Suzanne Lenzer, author of Graze

"Melina's photos are evocative and soulful, and everything looks scrumptious. A Year at Catbird Cottage is full of nourishing and seasonal meals made with foraged foods or fruit and vegetables you can grow in your garden, and quick meals prepared with everyday staples to share with the ones you love. This is a world I would love to immerse myself in."—Aran Goyoaga, author of Cannelle et Vanille and Cannelle et Vanille Bakes Simple

"Any dish at Melina's table is like a cozy embrace. I say this in the best way possible: her cottage reminds me of the comfort I felt at my grandmother's. Melina is a badass, and A Year at Catbird Cottage inspires a special nostalgia in a beautiful and delicious way that only she can create."—Gregory Porter, two-time Grammy Award–winning singer/songwriter and emcee of legendary Bed-Stuy dinner parties