One Life (Hardcover)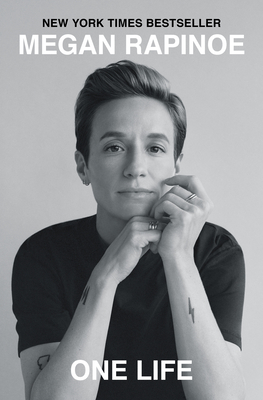 Description
---
An instant New York Times bestseller!

"Rapinoe's 'signature pose' from the 2019 FIFA Women's World Cup is synonymous to the feeling we got when finishing this book: heart full, arms wide and ready to take up space in this world."—USA Today 
 
Megan Rapinoe, Olympic gold medalist and two-time Women's World Cup champion, reveals for the first time her life both on and off the field. Guided by her personal journey into social justice, brimming with humor, humanity, and joy, she urges all of us to ask ourselves, What will you do with your one life?

Only four years old when she kicked her first soccer ball, Megan Rapinoe developed a love – and clear talent – for the game at a young age. But it was her parents who taught her that winning was much less important than how she lived her life. From childhood on, Rapinoe always did what she could to stand up for what was right—even if it meant going up against people who disagreed.

In One Life, Megan Rapinoe invites readers on a remarkable journey, looking back on both her victories and her failures, and pulls back the curtain on events we know only from the headlines. After the 2011 World Cup, discouraged by how few athletes were open about their sexuality, Rapinoe decided to come out publicly as gay and use her platform to advocate for marriage equality. Recognizing the power she had to bring attention to critical issues, in 2016 she took a knee during the national anthem in solidarity with former NFL player Colin Kaepernick to protest racial injustice and police brutality—the first high-profile white athlete to do so. The backlash was immediate, but it couldn't compare to the overwhelming support. Rapinoe became a force of change. 

Here for the first time, Rapinoe reflects upon some of the most pivotal moments in her life and career – from her realization in college that she was gay, through the disputes with soccer coaches and officials over her decision to kneel, to the first time she met her now-fiancé WNBA champion Sue Bird, and up through suing the US Soccer Federation over gender discrimination and equal pay. Throughout, Rapinoe makes clear the obligation we all have to speak up, and the impact each of us can have on our communities. Deeply personal and inspiring, One Life reveals that real, concrete change lies within all of us, and asks: If we all have the same resource—this one precious life, made up of the decisions we make every day—what are you going to do? 
 
"One Life makes it clear that Rapinoe's greatest accomplishments may ultimately come away from the soccer pitch. She's a new kind of American hero."—San Francisco Chronicle 
About the Author
---
Megan Rapinoe is an American professional soccer player. As a member of the US Women's national soccer team, she helped win the 2015 and 2019 FIFA Women's World Cup tournaments and a gold medal at the 2012 London Olympics. A co-captain of the team since 2018, she was named the Best FIFA Women's Player in 2019, and was awarded the Golden Boot.
Praise For…
---
"One Life will inspire readers to go out and leave their mark on the world no matter how scary it is or how uncomfortable they may feel in the process." —PopSugar
 
"One Life makes it clear that Rapinoe's greatest accomplishments may ultimately come away from the soccer pitch. She's a new kind of American hero." —San Francisco Chronicle

"Rapinoe's 'signature pose' from the 2019 FIFA Women's World Cup is synonymous to the feeling we got when finishing this book: heart full, arms wide and ready to take up space in this world." —USA Today

"An invigorating read that's incredibly hard to put down. . . . One Life is an outstanding narrative of an exemplary life. Megan Rapinoe's many accomplishments on the pitch are celebrated but what takes center stage is how she uses those moments to further the causes she believes in. It's that combination of transcendent athletic accomplishment and iconoclastic social justice activism that makes Rapinoe unique as an athlete—and now as an author." —Out Sports

"Megan Rapinoe isn't breaking the glass ceiling— she is shattering it, all while sharing her stage with those on the margins. She is a real-life superhero, a coconspirator to the oppressed, who is as tenacious off the field as she is on the field. This is an inspiring moment for a powerful force in social justice." —Patrisse Khan-Cullors, cofounder of Black Lives Matter; New York Times bestselling coauthor of When They Call You a Terrorist; joint recipient of the Sydney Peace Prize 
 
"Megan Rapinoe's One Life is an incredible self-portrait of a new way to be public and female: to be able to enjoy and celebrate how extraordinary one is while also being attuned to the needs of others. It's a manifesto of how to have a beating heart while also being a beast on the field." —Natalie Portman, Academy Award winner; co-owner of Angel City

"Uplifting. . . . A compelling testimony for equality in sports with a resounding message of hope." —Booklist, starred review
 
"Rapinoe's passion for inclusion and equality shines throughout this appealing book, and her hard-won take on the intersection of sports and activism isn't to be missed." —Publishers Weekly
 
"An inspiring memoir that will thrill soccer fans as well as social justice activists." —Kirkus
 
We appreciate your continued support!
If you would like to make a donation to help us through CLICK HERE.