Prophecy and History: In Relation to the Messiah (Paperback)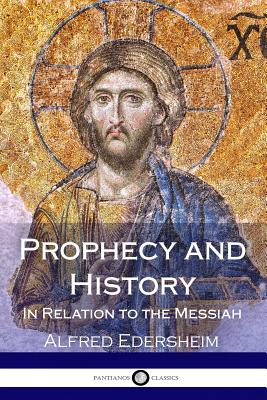 Description
---
Prophecy and History examines the complex relationship between events prophesied in the Old Testament, and the coming of Jesus Christ as described in the New Testament Gospels.
This book is a collection of twelve lectures which the author delivered over the course of several years. Each establishes a scholarly basis for the relationship Christ has with elements of the Old Testament, the Pentateuch, and the Apocrypha and Pseudepigrapha. The Messianic concept is demonstrated to flow deep within many holy texts, and Jesus is shown to have been anticipated by several prophets who lived centuries before His birth.
Authoritative and meticulous in his scholarship, Alfred Edersheim presents his arguments with a multitudinous annotations and frequent references to Biblical Scripture as well as the Talmud. Although his vocabulary tends toward the scholarly, Edersheim weaves a compelling narrative which is both challenging and rewarding for readers.
This reprint presents the original text, together with both appendices. Several comparative charts which analyze the Priest Code are included, as are all of the meticulous notes appended by the author.
Alfred Edersheim was born in Vienna to a Jewish family and raised in the Judaic tradition; his religious convictions however steered him toward veneration of Jesus Christ. Impressed by John Duncan, a preacher of the Free Church of Scotland, Edersheim commenced a lifelong affinity with that nation; skilled in multiple languages, several of his works were first published in Edinburgh.