Threshold (Paperback)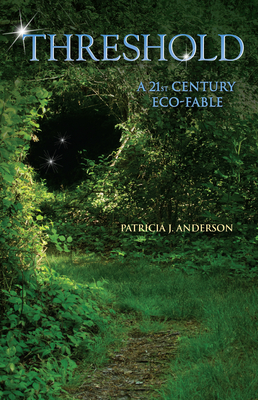 Email us for price & availability: info@oblongbooks.com
Description
---
The population of Ooolandia is hypnotized by the culture of MORE. Citizens of all kinds and colors go about their lives unaware that a great calamity is approaching. Banshooo, an amazingly mindful monkey, works for the Ooolandian Department of Nature where he has amassed data proving, beyond any doubt, that the natural world is losing the stability necessary to sustain life. Unfortunately, their warnings are ignored by the authorities who plan to phase out nature altogether. Freaky winds, icy earthquakes, and mutant anemones plague the landscape. After a wildly devastating storm, Banshooo has a vision revealing the connection between Ooolandia and the Unseen World--a connection that lies deep within and far beyond all that is seen. It is vital to Ooolandia's survival, and it is fraying. He must take radical action. Along with his quirky sidekick, he sets out on a journey beyond the surface of the Seen to bring back proof of the true nature of nature.
About the Author
---
Patricia J. Anderson is the author of All Of Us: Americans Talk About the Meaning of Death, a critically acclaimed investigation of cultural attitudes and beliefs; and Affairs In Order, A Complete Resource Guide to Death and Dying, named best reference book of the year by Library Journal. Her essays and short stories have appeared in The Sun, Glamour Magazine, Ars Medica, and Chronogram among other periodicals. She has published articles on a range of issues for Tricycle: The Buddhist Review and Rewireme.com, written exhibition and catalogue copy for such institutions as the American Museum of Natural History and the Capital Museum, and narration for video and radio documentaries. She is the editor of Craig Barber's Vietnam journal, Ghosts in the Landscape. Anderson has worked with website designers and producers to create and edit language for a variety of commercial and educational websites. She is the recipient of The Communicator Award for online excellence. She lives with her family in New York's Hudson Valley.
We appreciate your continued support!
If you would like to make a donation to help us through CLICK HERE.