Food, Culture, Place: Stories, Traditions and Recipes of Newfoundland (Paperback)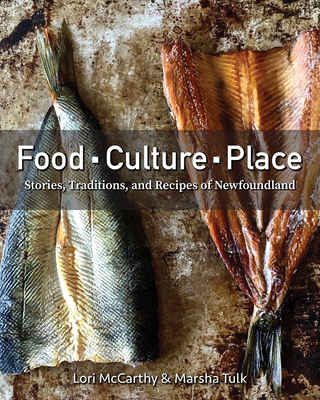 Description
---
Many homes in Newfoundland still have well-stocked pantries of bottled moose or rabbit, freezers of corned capelin, and eider ducks at the ready, waiting for a special meal. Food, Culture, Place celebrates the land these foods come from and encourages everyone to put more traditional foods back on their plates.
Lori McCarthy and Marsha Tulk have been collecting and cooking their way through the wild foods of Newfoundland for decades. This book showcases their experiences and shares the stories they have captured through their work and the people they have met. Through it all runs a deep love of everything that it takes to harvest, hunt, and prepare these foods to be enjoyed.
Fish are caught, game hunted, berries and plants foraged. Food is prepared, preserved, and stored. Throughout are recipes for traditional dishes, regional delicacies, and modern preparations for today's home cook.
About the Author
---
Lori McCarthy is dedicated to the cultural foods of Newfoundland and Labrador through her company Cod Sounds. She has been listed as a hidden gem in National Geographic and has been written up in Coastal Living as one of the eight great excursions in North America. Marsha Tulk's love of photography started at a young age when she found her grandfather's darkroom. She also continues crafting time-honored items like Newfoundland vamp and making a consistent supply of Cod Sounds' own jigger slippers.