And If I Don't?: Reimagining the Single Life (Paperback)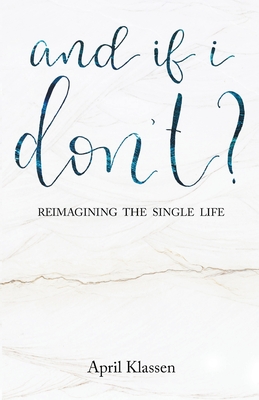 $15.00

Available in our Warehouse: Usually Ships in 3-8 Days
Description
---
"When you get married..."
If these words are familiar to you, then you've likely grown up on the same planet that I have. Or at least in a community where marriage is celebrated, looked forward to and talked about. As it should be.
But the crux of many painful stories is found in the space between when and waiting. We find ourselves stuck in cycles of broken hearts, unfulfilled dreams, and expectations for something that was never intended to be a burden. Marriage is a gift, not a script to be followed.
And while we see in Scripture the beautiful ways that marriage points to the love of Jesus for his Bride, a life lived outside of marriage can still embrace commitment, sacrifice, and love. So, if the best projection of a life well lived is marked by whatever follows 'when you get married...' then how can we answer the question I've long asked myself: "And if I don't?"
In her book, And If I Don't: Reimagining the Single Life, April Klassen walks outlines a biblical understanding of singleness within an evangelical framework. This non-fiction work is inspired by the author's own experiences with expectations of singleness and marriage in the contemporary church. The book describes the overlooked benefits of singleness in the church community. Ultimately, it advocates for Christians of all relationship statuses to pursue Christ wholeheartedly.
If you or someone close to you has struggled with their relationship status, finds themselves suddenly single, or if simply want to reorient their current relationship around Christ, then this book is a must-read.