Metaphors: An Emotional Journey (Paperback)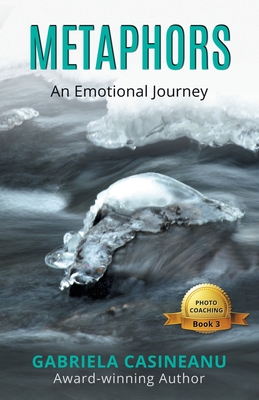 $14.39

Available in our Warehouse: Usually Ships in 3-8 Days
Description
---
Have you experienced a deeply painful setback? Or do you know someone? Are you feeling stuck with negative emotions, unsure of how to express them?
Based on a true story, Metaphors: An Emotional Journey-by award-winning author Gabriela Casineanu-takes you on a visual journey to understand how to make peace with these feelings. And when you're ready, how to let go of what's holding you back.
With over a decade of experience in professional coaching, Casineanu skilfully taps into the readers' emotional reservoirs, allowing them to gain clarity of their inner world, and create their own unique path to healing.
The book portrays Casineanu's emotional healing journey, from struggling with frustration and anger from a job loss... to refocusing her soul, which helped her to regain happiness and experience life with a fresh outlook.
Author of several Amazon bestsellers, Gabriela opens her world to you-one where you're invited to explore, laugh, cry and come away with your own sense of clarity
Through a series of nature photographs woven with lines of poetry, you'll be inspired to examine the darker corners of your soul-which you've perhaps been afraid to look at... until now.
After peering into Gabriela's unique view of the world, you'll discover that emotions are like the ocean's waves: you can learn to ride their ebbs and flows for a more enjoyable life journey
Hauntingly beautiful images, colours and verses will give you the opportunity to tap into a deeper place and emerge with a new perspective of what your soul needs.
Casineanu shows you that anyone can turn hardship around; this unwavering optimism may inspire even the staunchest pessimist
A must-read (or a beautiful gift) for anyone who deals with a job loss, divorce or another major setback in their life.
-
EDITORIAL REVIEWS:
A beautiful journey of transformation. Paola
So much insight and meaning. Gervend
Such feelings of hope and light Jolie
Thank you for your universal and timely journey Robyn
Powerful, insightful, and full of life. Haleh
Touching We all could find ourselves in this visual journey. Bianca
-
While grouped in series, Gabriela writes standalone books:
Photo Coaching Series (Self Coaching) - Introvert Strengths Series - Job Search Series