Complex Cases in Structural Heart Intervention (Hardcover)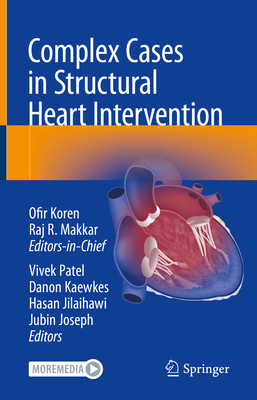 $285.99

Available in our Warehouse: Usually Ships in 3-8 Days
Description
---
Structural heart disease encompasses a wide range of abnormalities involving noncoronary structures like the heart's valves, walls, and chambers. The last decade emphasized the burden of the disease and revolutionized the treatment strategies.
The number of percutaneous structural heart interventions constantly increases worldwide. While some parts of the world acquire experience with various intervention treatments, techniques, and devices, others are paving their first steps.
Complex Cases in Structural Heart Interventions provide a descriptive and highly illustrative insight into unique clinical situations managed by one of the world's most experienced and innovative teams.
Each case study contains a clinical presentation, imaging analysis, procedural dilemmas, and resulting outcome. A detailed explanation of the technique used, key points and tips were highlighted, and a literature review covered broad knowledge on each topic.
The authors shared their knowledge and distinctive solutions from over a decade of experience to ensure an educational adventure for the medical community and a roadmap for interventional heart teams.
About the Author
---
Koren Ofir, MD Interventional Cardiologist Fellow in Structural Interventional Cardiology Smidt Heart Institute, Cedars-Sinai Medical Center Dr. Koren is an interventional cardiologist who focuses on coronary and structural interventions. He holds an academic at the Bruce and Ruth Rappaport Faculty of Medicine at the Technion-institute of Technology in Israel. He taught for many years and was repeatedly awarded as an outstanding lecturer by faculty students and colleagues. He conducted multiple national trials as a prime investigator and served as a SI for major international studies. Dr. Koren published numerous manuscripts and book chapters in leading peer-review journals, presented them at major international conferences, and was awarded for his research achievements. Raj Makkar, MD Director, Interventional Cardiology Division Director, Interventional Cardiology Research Program Vice President, Cardiovascular Innovation and Intervention Executive Director, Cardiac Interventional Services Smidt Heart Institute, Cedars-Sinai Medical Center Raj Makkar, MD is a world-renowned leading expert in interventional cardiology and is one of the most widely cited researchers on the management of valvular heart disease. He has performed the greatest number of transcatheter valve implantation (TAVI) procedures in the world and has led the field in advancing the procedure to ensure the best outcomes for patients. In 2020, he performed the most transcatheter mitral valve repair procedures with the MitraClip system in the United States and is the national principal investigator for mitral valve replacement research studies. He has authored over 500 manuscripts, abstracts and book chapters in peer-reviewed literature including practice-changing contributions in the New England Journal of Medicine and the Lancet. Vivek Patel, MS Smidt Heart Institute, Cedars-Sinai Medical Center Vivek Patel is a Biomedical Engineer who has a keen interest in Transcatheter structural cardiovascular devices and Imaging. Vivek has a strong level of knowledge, a diverse skill set, and solid research capabilities in structural heart disease intervention. Vivek Patel has contributed and reviewed multiple manuscripts for the leading peer-review journals. He has provided a key role in the national CT Imaging Core lab in multiple clinical Transcatheter devices studies. Danon Kaewkes, MD Department of Medicine, Faculty of Medicine, Khon Kaen University Dr. Kaewkes is Senior Interventional cardiologist Department of Medicine, Faculty of Medicine, Khon Kaen University, Khon Kaen, Thailand. He expertise in TAVR and edge-to-edge mitral repair procedure and published multiple manuscripts in leading PR journals. Dr. Kaewkes was a fellow in interventional cardiology, Cedars-Sinai, LA, California during the years 2019-2021. Jubin Joseph, MD PhD Interventional Cardiology Jubin Joseph is an interventional cardiologist with expertise in structural intervention. He completed undergraduate medical education at both Cambridge and Oxford University before undertaking post-graduate clinical training in Oxford and London. He has broad experience across the whole range of structural interventions & since 2020 has been working at Cedars Sinai Medical Center, Los Angeles with a particular focus on mitral and tricuspid intervention. Dr Hasan Jilaihawi Associate Professor of Medicine and Cardiothoracic Surgery Director, NYU Imaging Corelab Director of Research, Heart Valve Center Interventional Cardiologist NYU Langone Health Hasan Jilaihawi, MD, is an Interventional Cardiologist, Associate Professor of Medicine and Cardiothoracic Surgery and the Director of the Imaging Corelab at NYU Langone Health. He is involved in all aspects of cardiology, with a special interest in innovative methods of imaging the heart, complex percutaneous coronary intervention and device and patient selection within the novel field of transcatheter valve therapies. His international reputation in the field has earned him the prestigious responsibility of running the CT corelab for the pivotal US trial of the Portico device, the world's first fully repositionable and retrievable TAVR, as well as the CT corelab for China's first TAVR trial. He has authored more than 100 peer-reviewed manuscripts in journals including the New England Journal of Medicine, the Journal of the American College of Cardiology and the European Heart Journal.